If you have a cannabis enthusiast on your Christmas shopping list and are wondering how you can gift them a personalized, heartfelt gift this season, look no further – we have you covered! We've compiled 22 DIY gifts perfect for stoners and cannabis enthusiasts! Not only are homemade gifts an affordable way to celebrate your loved ones this season, but they allow you to be creative and personalize each recipient's gift! This guide will provide you with 22 DIY gift ideas to please all weed lovers on your Christmas list this year.
CBD lollipops are a great DIY gift for any cannabis enthusiast on your list! They are easy to make and can be customized with flavor, shape, and potency. A sweet gifting tip: place a couple of CBD lollipops in a cellophane bag and tie them together with a ribbon of your choosing. These CBD lollipop bouquets make for the perfect stocking stuffer or gift topper.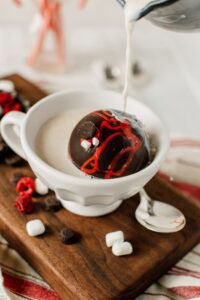 Looking for a fun and festive way to enjoy cannabis during the holidays? Then check out these Infused Hot Chocolate Bombs! These little treats are easy to make and perfect for sharing with friends. They also make for the perfect stoner stocking stuffer!
These cannabis caramels are the perfect DIY gift for any stoner. They're easy to make, delicious and indulgent, with a sweet and rich cannabis flavor that will satisfy any sweet tooth. Wrap in wax paper and add to a glass jar or holiday tin. These cannabis caramels are sure to be an unexpected and heartfelt treat your marijuana enthusiast will enjoy and appreciate.
These THC mints are the perfect DIY gift for any cannabis user. They're easy to make and require just a few simple ingredients. Repurpose, thrift, or find themed tins that align with your gift recipient's interests. Pack it with homemade THC mints for a thoughtful (and useful) DIY gift any stoner would love to receive!
Infused Cake Pops baked to your stoner's heart's desire! Cannabutter Digest will show you how to make this easy DIY recipe in no time. Wrap in cellophane and tie with a bow for some dank and delicious cake pops dressed for holiday giving. These infused cake pops are the perfect holiday party treat, gift, or favor.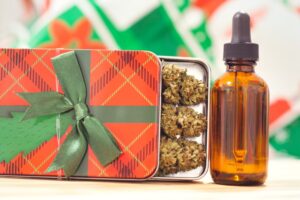 DIY CBD face serum is the perfect personalized gift for the one on your list that loves their skincare! Made with all-natural ingredients, this thoughtful gift is better than any expensive skincare product you could purchase. CBD oil is known for its anti-inflammatory and analgesic properties, allowing this DIY face serum recipe to help soothe skin and reduce the appearance of wrinkles. Fill a clear or amber glass vial with this homemade face serum, label, and dress with a bowl for easy holiday gifting.  
This homemade recipe for infused lip balm is straightforward and can be made with any cannabis oil. Plus, it's the perfect way to keep lips hydrated all winter long. DIY-infused lip balm made with your very own LĒVO sidekick is an excellent gift for gifts, present toppers, and stockings. A valuable gift for any stoner on your list!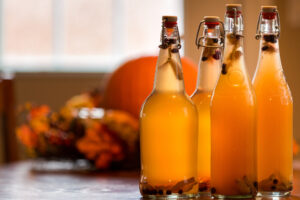 Looking for a gift for  the Cannabis and kombucha lovers in your life? This is the perfect gift to make for them! Kombucha is a fermented tea that has many health benefits. Chances are, there are some cannabis lovers on your Christmas list who love kombucha, too! This infused kombucha fuses the two, making it the perfect homemade gift for those on your list.
Give the gift of elevated relaxation with these homemade cannabis bath salts. Cannabis bath salts are the perfect DIY gift for any stoner enthusiast. These luxurious bath salts are infused with cannabis to provide a relaxing and soothing experience while also helping to ease pain, reduce inflammation, and improve sleep quality. Make in bulk to create multiple gifts for your loved ones all in one go. Fill a mason jar or decorative glass jar for the perfect homemade gift for your loved ones. 
Tasty and indulgent, cannabis chocolate truffles are the perfect sweet treat to celebrate the holiday season. Make these homemade cannabis chocolate truffles with LĒVO and create a customized potent treat that stoners will love! If you have Christmas parties coming up, these would make a wonderful hostess gift, too! Sure to impress and elevate, these sweet treats can be beautifully gifted in so many creative ways!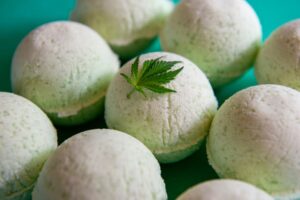 Splash into relaxation with a DIY marijuana bath bomb! These easy-to-make DIY bath bombs are infused with potent cannabis oil, giving them the perfect dose of soothing THC to help you melt away your stress and rejuvenate your body. These marijuana bath bombs are the perfect stocking stuffer or holiday gift for the stoners on your list. 
These DIY THC gumballs are a great way to give the gift of cannabis this holiday season! They're easy to make and require only a few simple ingredients. Make your own THC gumballs and fill up a vintage gumball machine for a funky homemade gift for the retro stoner on your Christmas list. 
Marijuana macaroons, the cute and colorful edible, perfect for a holiday gifted treat! Make these marijuana macaroons and get creative with your holiday wrapping or packaging. These unique DIY treats will surely be appreciated and loved by the stoner with the sweet tooth on your list!
Cannahoney is a DIY cannabis gift that is useful and easy to make. Its versatility as a cannabis infused ingredient and kitchen staple make it the perfect gift for any marijuana enthusiast on your list. Add to a mason jar and tie with a holiday ribbon for a buzz-worthy gift for a party host, neighbor, family or friend. 
Give the cherished gift of this candy classic by making your own with some homemade cannabis infused oil. This simple recipe requires only a few ingredients. The process is simple and fun to make with LĒVO. Whether you're a novice cannabis cook or experienced canna-chef, this recipe is sure to impress the stoners on your Christmas list. 
This DIY CBD face mask is a great gift for the beauty enthusiasts that love cannabis, too! This CBD face mask works to relax and reduce inflammation and is the perfect pairing for a spa night. The ingredients are easy to find, and the instructions are simple. Make this CBD face mask and wrap it up for all your stoner self-care loving friends this Christmas! You can get creative with the storage and wrapping too!
Soothe tired muscles after a long day with this DIY Infused Massage Oil. Made with grapeseed oil, cannabis extract, and lavender oil, this massage oil is perfect for your stoner girlfriend, boyfriend, partner, husband or wife. 
Chocolate bars are a sure hit at Christmas time. LĒVO's cannabis-infused chocolate bar recipe can be tailored to your recipient's potency needs. Purchase and print customized chocolate bar wrappers for an even more customized gift! 
LĒVO's infused homemade tattoo cream is perfect for the tattooed cannabis lover on your list. This cream is made with natural ingredients and helps soothe and heal the skin. If you have stoners and tattoo lovers on your Christmas list this year, try gifting them some of this infused homemade tattoo cream. 
These gummies are perfect for cannabis lovers who enjoy a little rosé. Made with the help of LĒVO, these gummies are a delicious and festive way to enjoy the holidays. Get creative with your packaging and gift to party hosts, neighbors or friends.
Let's spice things up this Christmas! LĒVO's infused hot sauce is sure to fire-up some taste buds and some conversation this holiday season. If you have a stoner who loves to add a little kick to their meals or cooking, this recipe will do the trick! This fiery sauce is made with habanero peppers and infused with cannabis, elevating any dish it's added to. Spicy stoners on your list,  this one is for them!
LĒVO Infused Chocolate Peppermint Bark is the perfect DIY stoner holiday gift! This easy recipe requires just a few simple ingredients and can be prepared in minutes. The final product is a delicious and festive treat that any cannabis user will love. Wrap up in festive holiday packaging and gift to party hosts, neighbors, family or friends. Who doesn't love enjoying a chocolate peppermint edible over the holidays? Cheers!

Elevated Sprits This Christmas!
We hope by now you've found some great gift ideas for the stoners on your Christmas list. Whatever their interest may be, there is sure to be something on this list for every cannabis user. LĒVO's infused recipes are a fantastic way to show your loved ones how much you care while giving them an experience they will remember and enjoy. A budget-friendly tip: make in bulk for creating gifts for multiple friends, family or stocking stuffers! Happy gift-making and giving!
Related Posts: