Looking for stocking stuffers for the cannabis lovers on your list this year? Check out our list of 13 buzz-worthy stocking stuffer ideas for the weed enthusiasts in your life. 
Sour Gummy Sugar
First on our list are the three musketeers of puckered perfection — the Sour Gummy Sugar Trio! These are perfect to keep your gummy candies from sticking together, plus they add the most delicious sour flavor to any candy treat you make! Simply toss your gummies in the powdered sour sugar and enjoy these delicious infused treats. The trio includes watermelon, blue raspberry, and unflavored sour sugars to ensure there's something to match with each of your gummy creations. Plus, they are vegan, dairy-free,  gluten-free, and made in the USA. When it comes to quality gummy decorating accessories, know you are gifting the very best!
Gummy Glitter
The holiday is not complete without a touch of glamor, and what better way to add some sparkle than with stockings filled with LĒVO's gummy glitter?! This shimmering powder is perfect for adding a touch of sparkle to any holiday treat. Sprinkle on top of cupcakes, cookies or gummies to create an outstanding infused edible treat. You can also add this gummy glitter to drinks for a shimmering seasonal cocktail.This edible glitter is food-safe and non-toxic, making it the perfect addition to any elevated creation on the menu. 
MCT Oil
MCT oil is an amazing addition to any stocking. This oil is perfect for infusing gummies, baked goods, and drinks. It easily mixes with any sauces, beverages, or dressings, and is completely flavorless and odorless, enabling it to embody any taste you desire! Plus, it's rich in medium chain triglycerides (MCT), which are known for their health benefits. MCT oil is a tried and true ingredient that is sure to please any cannabis enthusiast this Christmas. 
Sunflower Lecithin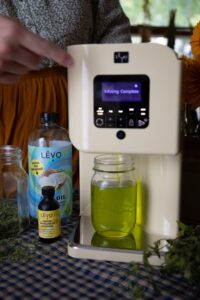 Another stocking stuffer for stoners that we highly recommend is sunflower lecithin. This ingredient is perfect for emulsifying and making compounds more bioavailable. This means ensuring they are easier to digest. When we say bioavailability, we mean the degree and rate at which a drug or other substance is absorbed or becomes available at the site of action. That being said, if you want to make your edibles more potent, sunflower lecithin is a great addition. It is also soy-free and rich in naturally occurring choline, which is an essential nutrient that is highly similar to B vitamins. Sunflower lecithin is a key ingredient for any edible chef's kitchen, a valuable stocking stuffer, for sure!
Gummy Mixes
Gummies are arguably the most common and enjoyable cannabis edible. What's not to love? They're delicious, easy to make, and can be infused with any type of cannabis. If you're looking for a stocking stuffer that any stoner would love, then look no further than these Gummy Mixes. These mixes have everything you need to create your own gummies. Plus, they come in a variety of delicious flavors including: Tart Cherry, Raspberry Sherbert, Strawberry Lemonade and Tropical Peach. These mixes make homemade edible making a breeze. A wonderful addition to any stoner's stocking on your list this year!

6. Herb Tray Block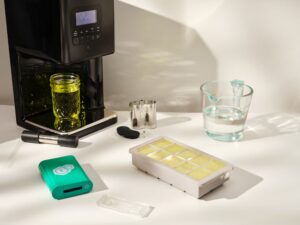 Kick up the cannabis infusion storage game with these Herb Block Trays. These make for great stocking stuffers. Help your cannabis lovers increase the shelf life of their oils and butters while building up a fridge or freezer stockpile of infused not-so-basics. The trays come with a lid that is dry-erase safe, so you can write the date, potency, and contents of your creation. They are also microwave, dishwasher, and freezer safe, and hold up to two cups of liquid in ten 1.5 fl oz cubes for quick and easy portioning.
Edibles Mixes
These ready-to-go boxes of edible mixes are sure to be enjoyed by the stoners on your christmas list. Stuff their stockings with chocolate chip cookie mix, confetti birthday pancake or waffle mix, or organic brownie mix this year. All of these mixes are  Kosher, non-GMO, and contain no preservatives. Mix with infused oil or butter, eggs, and water and bake for a simply perfect edible! Give the gift of easily made edibles this year with these delicious edible mixes.
Granola Mix
These granola mixes are another edible treat that make great stocking stuffers. Available in Cinnamon Coconut Pecan and Vanilla Caramel Crunch, these granola mixes are all-natural, preservative-free, and make for a quick and easy breakfast or snack. You can make 16 oz of granola with each mix or 10 individual 1.6 oz bars. 
Silicone Gummy Molds
These silicone gummy molds are a stoner's must-have and make for a great Christmas stocking stuffer. These molds have a spherical shape that is perfect for making gummies, chocolates, hard candy, and other edibles. Each mold also comes with a lid to prevent leakage and keep your treats fresh. The kit comes with two trays and lids, and can make up to 64 gummies. The mold trays come with a lid that is dry-erase safe, so you can write the date, potency, and contents of your creation. 
Infusion Sprayer
A perfect addition to any stoner's kitchen, the Infusion Sprayer is a must-have for those who love to cook with cannabis. This refillable mister bottle makes it easy to dispense your oils for infused cooking, baking or snacking. Use for salad dressings, marinades, popcorn, chips, and more. Plus, it's dishwasher-safe, making the cleanup an equal breeze. This is sure to be an unexpected and well-loved stocking stuffer for the stoners on your Christmas list.
Herb Press
This herb-press is sure to please the stoner on your list who is looking to get every last drop of their infused herbal creations.  Made from food-grade stainless steel and silicone, this dishwasher-safe tool is a great addition to any stoner kitchen.
Heart Molds
The stoners on your list will LOVE these heart shaped molds. These silicone molds are perfect for making cannabis-infused candies, gummies, tablets, chocolates, small cakes, and more. The set includes four FDA-approved, food-grade silicone trays, each tray with 10 individual heart cavities. These molds are also microwave, dishwasher, and freezer safe. 
Find the Perfect Stocking Stuffers for Stoners Today!
Love a thing or two on this list? Grab your favorite stocking stuffers for stoners today at LĒVO. Make Christmas shopping easy this year and stuff your cannabis lover's stockings with ideas from this list. To check even more boxes off your list, LĒVO's infusion machines and gummy makers are the perfect surprise for the special stoners in your life. From gummy bears to chocolate bars, these machines make it easy to infuse just about anything with cannabis. Get one for yourself or a friend today!