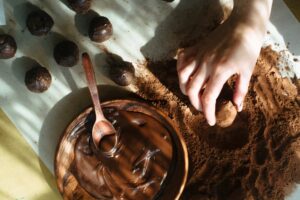 This recipe for cannabutter chocolate truffles is not only delicious but surprisingly simple. Thanks to the weed-infused butter, the decadent ganache filling also has additional health benefits like pain relief.
Ganache is equal parts chocolate and cream. It is made by simmering heavy cream, pouring it over the chopped chocolate, and then whisking the mixture.
According to culinary folklore, ganache was discovered when a pastry apprentice in 1850s France accidentally spilled hot milk over chocolate. Since then, ganache has been commonly used in pastries. Once you know how to make the weed infused ganache by following this recipe, you can use it as a filling or frosting in many other dessert recipes as well.
Let's dive in and get you ready to make these truffle edibles!
Benefits of Infused Chocolate Truffles
You can make this recipe with your preferred type of chocolate (milk, white, dark, etc.) for your dipping sauce. For the ganache, use dark chocolate of 60% cacao or higher. Many research studies have shown that flavonoids found in dark chocolate improve cardiovascular health- with a recommendation of at least 72% or more cocoa for maximum health benefits.
Cocoa's other health benefits include memory restoration, immune support, inflammation reduction, minimizing oxidative stress, and muscle repair. Cocoa is also rich in iron, magnesium, selenium, and zinc. So, the cocoa in this recipe is not only delicious but also good for your health, too.
Herb-infused butter also has beneficial properties, which makes this dessert surprisingly healthier than it tastes or looks. You can make truffles infused with all kinds of botanicals that create your preferred taste, and aroma.  For psychoactive effects, select your favorite strain of cannabis flower or shake to decarboxylate and then infuse into the butter needed for this recipe.
If you don't have a LĒVO infusion machine to make your cannabutter, follow these directions here for old fashioned methods of decarbing and infusing weed into butter.
A  LĒVO II or LĒVO C home infuser can efficiently dry, activate and infuse botanicals into butter, and other 'carrier oils' all in one machine. Whether you decarb and infuse your ingredients by hand or with an infuser, you're ready to start baking once your infused component is ready.
DIY Cannabutter Chocolate Truffles
These decadent desserts look fancy and pack a potent punch. You're sure to impress chocolate and edible lovers alike with these desserts.
Equipment
Large saucepan

Stirring spoon

Mixing bowls

Scoop

Storage container
Ingredients
You only need a few ingredients, including:
1/2

cup

infused butter

1

cup

heavy cream

1

lb

dark chocolate

Sprinkles, crushed nuts, coconut, cocoa powder, 8 ounces of dipping chocolate

(your choice of coating)
Instructions
Place chocolate in a large mixing bowl. Do not melt the chocolate.

Bring cream to a light boil in a heavy saucepan.

Pour boiling cream over the chocolate and keep stirring until all the chocolate has melted.

Add infused butter and stir well. The ganache will thicken as you whisk.

Stir for several minutes until very smooth.

Cover the bowl of ganache and freeze for about 1 ½ – 2 hours.

Use a small scoop to form 2,54 cm round balls. You can use a soup spoon, ice cream scoop, or melon scoop.

Roll the balls in sprinkles, crushed nuts, or coconut, or you can dip them in more chocolate.

Place them in a storage container and refrigerate.
Notes
You can also make ganache using white, milk, or dark chocolate or substitute some of the other ingredients and decorative coating to your liking.
Once you feel comfortable making these infused chocolate truffles, you can experiment with additional flavors or toppings to expand your creativity.
Isn't It Time To Expand Your Repertoire Of Culinary And Craft Arts Into The World Of Home Infusions?
LĒVO has a library of recipes, educational content, calculators, photos, and MORE available on their website, or visit them on YouTube to see videos of recipes and their products in action! Not sure where to start? Take the LĒVO Quiz to see which machine is right for you! #LĒVOmade
Other Recipes to Try: