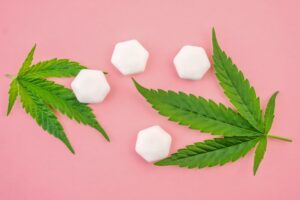 These delightful THC breath mints, made with the help of a LĒVO home infusion machine, are the chill pill you didn't know you needed. 
LĒVO Home Infusion Machines 
If you've ever considered making your own THC breath mints, LĒVO's line of home infusion appliances can dramatically simplify the process. As a cannabis enthusiast, you may have attempted to make your own cannabis infusions before. If you have, then you know that it can be a time-consuming, labor-intensive, and messy ordeal. Before LĒVO machines hit the market, cannabis users who longed for more control over the ingredients going into their cannabis products had to do everything by hand, from drying and activating to infusing. 
At the time, the only viable alternative to manually infusing cannabis was to purchase pre-made, store-bought cannabis products with questionable ingredients. Packaged cannabis products may be convenient, but they can also be costly and often contain unwanted fillers, additives, and preservatives. 
Enter the LĒVO home infusion machine. Along with other LĒVO infusion appliances, the immensely popular LĒVO II has revolutionized the way that cannabis users create their own weed products, from baked goods, candies, and beverages to tinctures, oils, and cannabutter. The LĒVO II streamlines the infusion process by drying, activating, and infusing cannabis flower for you. Instead of spending hours in the kitchen and having to clean up huge messes, you can save time and money by using LĒVO's automated technology to create your own weed infusions at the touch of a button.
Every LĒVO II comes equipped with a digital screen that allows you to adjust time and temperature settings based on the type of infusion you are making. You can lean on LĒVO's calculator to ensure you infuse the specific herb and oil at the optimal time and temperature.
With LĒVO, cleanup has never been easier. All the LĒVO II's components, from the Power Pods to the silicone stirrer, are dishwasher safe. 
LĒVO home infusion devices are small enough to fit neatly inside a kitchen cabinet or pantry. If you prefer to display your machine on your kitchen counter, the LĒVO is guaranteed to add a lively splash of style. LĒVO machines are manufactured from non-toxic materials and come equipped with a ceramic-coated, 16 oz. liquid reservoir.
If you aren't 100% satisfied with your purchase (though we know you will be), LĒVO offers a full refund for up to 30 days. LĒVO also offers a one-year limited warranty in the unlikely event that your machine runs into a technical problem.
Ready to start churning out some delicious, homemade THC mints with ingredients you can trust? Check out the LĒVO website to shop for your new cannabis infusion sidekick. Outside of the LĒVO II, LĒVO also offers other models, including the LĒVO C, which has a higher capacity (up to one liter) and is designed for large batches. If you're a small business owner, the LĒVO C is a great option for commercial quantities. On the other hand, if you're a cannabis culinary infusiast, chef, caterer, or interested in an even more luxurious at-home experience, be sure to learn about LĒVO's newest model, the LĒVO Lux. Designed with an augmented Dry cycle, this infusion machine is designed to elevate any herbal infusion your heart desires or client requests of you! 
THC Breath Mints Recipe
Breath mints have been used for many purposes, from fighting bad breath to treating nausea. Cannabis can have all sorts of benefits for your health and wellness, from relieving anxiety and lowering your blood pressure to reducing inflammation and elevating your overall mood. The cherry on top? These mints are tasty, too.
One of the main ingredients in our THC breath mints is cannabis oil. Before you get started on the making mints, we recommend using a LĒVO home infusion machine to create your very own oil or tincture. 
Our THC breath mints can be molded into any shape and size you prefer and they should keep for several weeks. 
This recipe requires 15 minutes of prep time and 72 hours of drying time and yields roughly 100 servings.
THC Breath Mints Recipe
Fresh and invigorating, with a cannabis kick.
Ingredients
2

cups

Dry gum paste

¼

cup

Icing sugar

1

tsp

Cannabis oil

2

tbsp

Cold water

1

tsp

Peppermint extract/flavoring
Instructions
Prepare a large baking sheet by laying down lightly oiled parchment paper. Sprinkle a bit of icing sugar on the parchment.

In a large mixing bowl, combine dry gum paste with water and peppermint flavoring. Blend ingredients together until a dense paste forms.

Spread the paste evenly onto the baking sheet and coat the top of the paste with what is left of the icing sugar.

Using cookie cut-outs or other tools, you can mold your mints into any shape you desire. Some people roll the paste into tiny balls. You can also create mints of different sizes.
We sincerely hope you enjoy your THC breath mints. If you're interested in making other cannabis products like gummies, cookies, brownies, and more… be sure to check out LĒVO's delicious, easy-to-use edible mixes. 
Other Recipes Worth Trying: