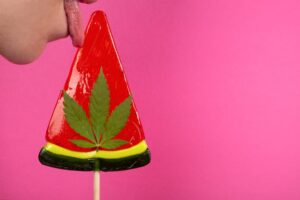 Who doesn't enjoy a fruity lollipop from time to time? Now, with the help of a LĒVO home infusion machine like the LĒVO II, LĒVO C, or LĒVO Lux you can easily make your very own cannabis suckers and save yourself time and money in the process! 
LĒVO Home Infusion Machines 
Although the LĒVO can be used to infuse oil, butter, honey, milk, and other substances with any type of herb, cannabis lovers often use the LĒVO home infusion machines to make CBD infusions in the comfort of their own kitchens, without the hassle of doing it by hand. 
Manually drying, activating, and infusing herbs can take hours and the results may vary. The LĒVO II has completely changed the way that CBD enthusiasts make their own products. The LĒVO's patented technology is designed to automatically complete every stage of the infusion process at the touch of a button so that you can concentrate on other tasks or activities while your machine does all the work for you. 
With a click, the LĒVO machine will begin drying, decarbing, and infusing hemp flower (or any other herb of your choosing). By using LĒVO, you can also significantly cut down on the time and energy you must devote to clean up. All of LĒVO's removable parts are dishwasher safe, making the cleanup process as simple as the infusion process!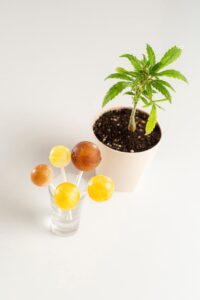 By using LĒVO to make your own CBD lollipops at home, you can avoid store-bought candies that contain unknown, potentially unhealthy ingredients like preservatives, artificial additives, and questionable fillers. Packaged CBD candy can also be costly. With LĒVO, you can control the ingredients that go into your CBD lollipops and save a significant amount of money on pre-made items in the long term. 
To make CBD lollipops, you'll need to first make CBD oil. This is where owning a LĒVO device would be a tremendous benefit. Once you've chosen the oil you'd like to infuse and purchased hemp flower, all you need to do is use the LĒVO's digital screen to set your time and temperature preferences. You can use LĒVO's calculator to determine the appropriate settings based on the type of oil you are using. If you commonly make CBD lollipops, you can also save your time and temperature preferences for next time. LĒVO comes with default settings that are a great place to start!
All LĒVO machines have a modern, polished finish and come in a range of unique colors. Whether you want to make a statement by keeping it on your kitchen counter or prefer storing it in your pantry, the LĒVO II measures just over a foot tall and eight inches wide – compact and easy for small spaces. It comes equipped with a non-stick ceramic-coated 16 oz. reservoir, a Power Pod, and a silicone stirrer, all Teflon-free and made from non-hazardous materials. 
If you aren't totally happy with your LĒVO purchase, you can return your machine for a full refund as long as you do so within 30 days of your original purchase. LĒVO also provides the original purchaser with a limited manufacturer's warranty for one year from the date of purchase. 
Making CBD lollipops doesn't have to be a long, labor-intensive process with extensive clean-up, nor should you have to spend excessive amounts of money on pre-made CBD products. The LĒVO II and other LĒVO home infusion machines offer you a convenient way to make your own CBD lollipops and other hemp treats. 
If you own a small business that makes hemp products, you should also consider the LĒVO C, which comes with a one-liter basin and produces larger batches, making it the perfect choice for commercial settings. 
CBD Lollipop Recipe
CBD oil is one of the primary ingredients used to make our lollipops. While CBD oil can be purchased at stores and dispensaries, it tends to be costly, and some CBD oils contain vague ingredients. Fortunately, you can easily make your own CBD oil with a LĒVO home infusion machine. You will need: 
Your choice of oil (we recommend coconut or MCT)

CBD hemp flower
Instructions: 
Place CBD flower into your LĒVO herb pod. If you decide to grind your herbs, be careful not to grind them too finely, so that they don't slip through the pod and into the infusion. 

Place the herb pod into the basin. Close the lid.

Choose the Activate Cycle. 

Once complete, open the reservoir and place the magnetic stirrer in the middle of the basin.

Fill the basin with up to 2 cups of oil. Ensure that the herb pod is completely submerged before you start the infusion. Close the lid and Choose the Infusion Cycle.

If you are using coconut oil, set the temperature to

160-175°F

and allow the oil to infuse for approximately 2.5+ hours. 

Once the infusion is complete, dispense it into a glass jar with a sealable lid or another airtight container. You can use the

herb press

to squeeze out any remaining CBD compounds into the infusion. 

You can store the infusion in a cabinet, in the pantry, or in the fridge. You can also store it in the freezer if you don't plan to use the oil for a while. 
Children often enjoy lollipops as a treat. Why shouldn't adults do the same? By making your own CBD lollipops, you can choose your own flavors and decide what ingredients you would like to incorporate into your recipe. 
CBD Lollipop Recipe
Children often enjoy lollipops as a treat. Why shouldn't adults do the same?
Equipment
Lollipop molds and lollipop sticks
Ingredients
1 ¼

cups

of sugar

40

mL

of CBD oil

⅓

cup

water

½

cup

corn syrup

2

tsp

flavor extract
Instructions
Spray the lollipop molds very lightly with non-stick cooking spray and add the lollipop sticks.

Bring corn syrup, sugar, and water to a boil in a large pot.

Once the mixture reaches 300°F, remove the pot from heat. You can use a candy thermometer to check the temperature. Continue stirring the mixture.

Once the temperature has dropped to 250°F, add in the CBD oil and any other flavoring extract you've decided to use.

Once the CBD oil and flavor extracts are thoroughly mixed in, pour the mixture into lollipop molds.

Allow the lollipops to cool for a minimum of one hour at room temperature.
If you enjoy your CBD lollipops, be sure to check out LĒVO's other edible mixes, which are perfect for making CBD or THC gummies, granola, and brownies. 
More Recipes to Try: