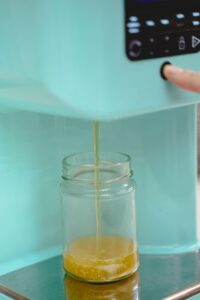 Still on the fence about purchasing yourself a LĒVO? This LĒVO review will help you decide if its 3-in-1 capabilities are worth it or not.
This smart machine will do more than indulge your culinary curiosity through herbal infusion. It'll expand your weekly menu, encourage you to eat and live healthier, and ease tension on your wallet.
By giving you the ability to make both herb-infused and flower-infused oil and butter, you can say goodbye to a whole bunch of grocery and dispensary expenses and hello to cleaner and cheaper meals, edibles, cocktails, tinctures, topicals, candles, bath bombs, beard oil—you name it.
So let's take a deep dive into all the good this sleek kitchen gadget has to offer you, your body, and your bank account.
LĒVO Review: 3-in-1 Capabilities
First off, when you buy LĒVO, you get three appliances for the price of one. This machine has options to dry, activate (AKA decarboxylate), and infuse literally any herb you have in your kitchen, including cannabis. People often use the LĒVO to make products like cannabutter or THC tinctures.
With other machines, you have to purchase a separate machine for at least one of those steps. Or you can risk it by using your oven, crockpot, or some other mess-making technique, but that doesn't guarantee consistent results and can lead to burned oil, herbs, and money. On top of that, you can use LĒVO to infuse any oil, butter, or honey. Other machines only give you the option to infuse oil or butter.
Flower Power: Making Edibles, Tinctures, and Topicals for Less
Second, LĒVO gives you the power to make flower-infused edibles, tinctures, and topicals at home for way less than you could ever find them online or at a dispensary. Take a look at the graphic below.
You could spend $40, or 40¢ per milligram of flower, on store-bought edibles. Or you could spend $40 on flower and use it to make 16 oz worth of infused butter or oil with your LĒVO, giving you the freedom to make your edibles at home and experiment with potency. Not only does that drop your per milligram expense down to 3¢, but it also gives you the power to control every ingredient in your edible, so you know exactly what you're putting into your body.
And there's an extra cost savings here. If you like to vape, you can re-use the flower that you vape. All you need to do is save your used flower, skip the activation cycle in your LEVO, and go straight to its infusion cycle with your already decarboxylated flower. 
One benefit of using LĒVO's activation cycle instead—you squeeze out nearly 98% of the plant's THC content. When you smoke your flower, you typically lose around 60% of the THC content. With vaping, you lose around 46%.1
The fun doesn't stop at making edibles. You can use that $40 worth of flower to make infused oil for at-home tinctures, topicals, and bath bombs.
In LĒVO's home state of Colorado, tinctures average 41¢ per milligram of THC.2 With LĒVO taking that cost down to 3¢ per milligram, that's a 93% savings on your flower products, plus we're talking 19oz of infused oil, not the usual 1oz tincture. And again, you know every single ingredient involved. Talk about a high.
Herb-Infused Oils on a Budget
LĒVO can put your other herbs to good use too. You know that huge pack of rosemary you had to buy just to get the two sprigs needed for your recipe? Toss 'em in your LĒVO and now you have rosemary-infused oil or butter to use on top of popcorn, french fries, chicken, salmon, or anything else that sounds good. Same goes for that extra thyme, basil, or any other herb sitting in your veggie drawer! No more throwing away your money with herbs gone bad.
And no need to shop for high-dollar herbal infusions anymore either. Instead of dropping $40 on a garlic-infused olive oil, drop 50¢ on a bulb of garlic and $10 on olive oil, add them to your LĒVO, and you've got the same thing for 74% less money and insight into every ingredient included. Your wallet and your body will thank you.
Cost Savings Outside the Kitchen
Because of LĒVO's versatility, the cost savings translate outside the kitchen too. Instead of spending $35 on one candle, you can spend the same (or less) on your favorite herbs and use them to make multiple candles with your LĒVO. Bonus: use old, already burned candles as your candle jars for your LĒVO candle creations. Reduce, reuse, recycle!
You can also use your LĒVO to make bath bombs using ingredients you already have at home. That's a $5-$10 savings right there.
The cheaper, cleaner self-care doesn't stop there either—you can make shaving cream, aftershave balm, and beard oil with household kitchen ingredients and save yourself a $100 trip (minimum) to The Art of Shaving for the same results. And there's plenty more where that came from. Below is just a glimpse into the self-care recipes available for free on LĒVO's website.
Clean Self-Care for Less with LĒVO:
The Bottom Line
The bottom line is that your bottom line will benefit from adding LĒVO to your kitchen lineup. A 3-in-1 machine, it reduces your spending on flower and flower products, fancy oils and herbal infusions, and self-care. And it reduces your waste in the kitchen. (Speaking of kitchen, did we mention you can stop spending money on dish soap too?)
If that's not enough, it also offers you the peace of mind of knowing every single ingredient you put in and on your body. Now that's one smart machine.
Related Posts: