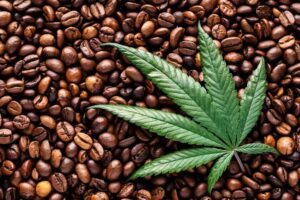 Coffee is a reliable and favorite pick-me-up for millions of Americans. Both coffee and cannabis have stimulant properties that make a potent combination. If you are a cannabis enthusiast looking to add a little extra kick to your morning coffee… this is the recipe for you. All you need is the coffee grounds of your choosing, cannabutter, coconut oil (or MCT oil – more on this below), and a LĒVO home infusion device.
Making Cannabis Coffee with a LĒVO Home Infusion Machine
Many cannabis lovers prefer to create their own infusions but the process can be taxing and time-consuming. Thanks to LĒVO home infusion machines, the process of making your own array of cannabis products, including cannabis coffee, is now easier than ever.  
To make cannabis coffee, you'll first need to make cannabutter, which is essentially just butter infused with cannabis flower (if you are vegan or dairy-free, you can also use non-dairy butter to make vegan cannabutter). The LĒVO II and other LĒVO home infusion devices use proprietary technology to streamline the infusion process. Instead of wasting hours of precious time drying and decarbing (activating) cannabis by hand, your LĒVO machine will complete every cycle of the infusion process for you at the touch of a button.
While you could always buy your CBD or THC coffee, many cannabis and coffee enthusiasts prefer to brew their own. Not only does brewing your own give you more control over the ingredients going into your coffee, but it also allows you to control dosage. 
If you have ever made cannabis coffee by hand, you know that it can take a significant amount of time to dry, decarb, and infuse cannabis flower manually. With a LĒVO home infusion machine, you can relax, get household chores done, run errands, or do other activities while your LĒVO takes care of the entire process.
With LĒVO, you are also guaranteed to get a consistent infusion every time, whereas creating your infusions manually can yield unpredictable results. Do you regularly make cannabis coffee? If so, you can save your typical time and temperature settings to your device for ease of use.
If you're simply making cannabis coffee for yourself or your household, the LĒVO II is best suited for personal use as it has the capacity to hold up to 2 cups of oil for infusing. If you need a home infusion machine that yields larger batches for commercial purposes, then the LĒVO C might be a better option for you. Like the LĒVOII, the LĒVO C comes in a variety of gorgeous colors, while having the capacity to hold up to 1oz of herb and 6 cups of oil or butter for infusing. Lastly, the LĒVO Lux is an even more elegant version of the LĒVO II, and it comes with a striking metal facade that is sure to stand out in any kitchen. With an elevated dry cycle, the LĒVO Lux is the perfect sidekick for any culinary infusiast.
Although we think you'll fall in love with your LĒVO machine the first time you use it, LĒVO does offer a full refund for up to 30 days if you are not totally content with your machine. But if you're like most LĒVO owners, you won't want to let this amazing machine out of your sight once you see how much time and money it can help you save on cannabis coffee and other cannabis products. 
Cannabis Coffee Recipe
There are numerous ways to make cannabis-infused coffee. Some use cannabis sugar, cannabis tincture, or cannabis milk. For this recipe, we will be mixing cannabutter into hot coffee for a cannabutter bulletproof coffee. Before brewing your coffee, you'll need to begin by making cannabutter using a LĒVO home infusion machine.
With LĒVO, cleaning up after infusing has never been easier. Your LĒVO parts – including the basin, herb pods, and silicone stirrer — are all dishwasher safe and non-toxic.
Cannabis Coffee Recipe
Both coffee and cannabis have stimulant properties that make a potent combination. If you are a cannabis enthusiast looking to add a little extra kick to your morning coffee… this is the recipe for you.
Ingredients
12

ounces

hot coffee

1 - 1½

tsp

cannabutter

depending on desired strength

2 ½

tbsp

coconut or MCT oil

Dash of sea salt
Instructions
Once the cannabutter has been prepared, blend it into your coffee. Place about 12 ounces of hot coffee into a blender with the above ingredients.

Carefully blend all the ingredients together. Be extra cautious, given that the coffee will be extremely hot. You may need to peel back the lid just slightly to allow the steam in the blender to escape at intervals. Once the coffee has a foamy consistency, it is ready to enjoy.
LĒVO's collection of home infusion devices make it easy to control the ingredients and the potency of the edibles you consume. Why lean on LEVO through this process? They offer an all-in-1 solution that dries, decarbs, and infuses while extending the shelf life of your edible creations.
Did you know that LĒVO also makes delicious edible mixes that can be used to make cannabis products like gummy worms, cookies, and brownies? If you're looking for a treat to compliment that cup of cannabis coffee, check out the edible mixes on their website today.