Just about any food or drink can be infused with cannabinoids and THC, and beverages like cannamilk transform this everyday food staple into a decadent and flavorful ingredient.
If you crave a favorite snack like milk and cookies or creamy chocolate milk, you might want to try cannabis-infused milk. Cannamilk transforms classic recipes while providing nutrients and terpenes that can enhance well-being.
Cannamilk is great when used as an ingredient in recipes. You can also use cannamilk to create Fettuccine Alfredo or caramel gelato as well as many other wonderful recipes. This cannamilk recipe is easy, and it takes about two hours, including the stages of decarboxylation and infusing the milk.
How to Make Infused Milk with LĒVO

The decarbing and infusion processes are important for activating the health properties of cannabinoids facilitating their absorption into the human body.
The human body can absorb some nutrients and terpenes from the raw flower, but the flower needs heat to convert THCA into THC and unleash the full potential of cannabis's anti-pain, anti-inflammatory, and psychoactive properties. Plus, not everyone enjoys the taste and texture of raw flower, so using canna-infused milk, butter, or oil is much more palatable.
Remember that infusions work best with higher fat content products. The more fat, the better the infusion results since fat is required for THC bonding and THC won't bind to water-based liquids without the addition of lecithin.
Benefits of Cannamilk
The therapeutic properties of the cannabinoids and terpenes found in cannamilk have many health benefits.
Years ago, people used to drink a glass of milk before bed, so the tryptophans would contribute to a sound sleep. This recipe offers the ultimate weed-infused bedtime tonic, so integrate cannamilk into your evening routine if you are having trouble sleeping
Note: If sleeping or pain management is your objective, we suggest an Indica dominant strain.
How to Use Cannamilk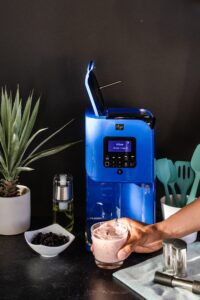 You can now enjoy a small glass of milk paired with your favorite cookie, add it to your coffee, or use it in a recipe. A dash of vanilla extract can soften the earthy taste of cannamilk, or you can add a splash of coconut milk and a sprinkle of cinnamon.
Note:  If you decide to make cannamilk often, you might want to experiment with making ice cream and infuse with LĒVO's large batch machine: LĒVO C!
Make sure you start with a smaller amount of cannamilk the first time you drink it. Take a sip or two, and wait about two hours to see how you feel. This recipe does not use a lot of liquid and it can be very potent for most people.
You can add plain milk or another liquid if you want to reduce the potency and increase the actual amount of milk per serving.
Isn't It Time To Expand Your Repertoire Of Culinary Arts Into The World Of Home Infusions?
LĒVO has a library of recipes, educational content, calculators, photos, and MORE available on our website, or visit us on YouTube to see videos of recipes and our products in action! Not sure where to start? Take the LĒVO Quiz to see which machine is right for you! #LĒVOmade
Recipes to Try