You can surely enjoy the effects of plain edible gummy worms, but everyone knows that the best and most nostalgic gummy worms are two-toned! Creating your own two-toned edible THC gummy worms at home means you get to control the ingredients. When your gummy worms are homemade, you know what's going into your body and you can customize your treats to your taste preferences. 
Luckily, you don't have to spend a fortune on flavorful THC gummy worm edibles from a specialty retailer. You can create these creepy crawly edibles at home with a few ingredients and a LĒVO infusion machine. 
What Are THC Gummy Edibles?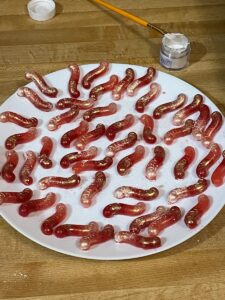 THC is a psychoactive compound in cannabis that produces a euphoric feeling when smoked or consumed. How does it work? THC binds to neuroreceptors in the brain, triggering pleasurable sensations in the mind and body. However, THC may also help treat certain medical conditions like pain, insomnia, nausea, anxiety, and low appetite. 
 THC gummy edibles are candy-like treats made with infused THC oil, butter or honey. Many people prefer gaining the therapeutic effects of THC in edible form for a variety of reasons. For one, they are simply delicious and can be made in just about any flavor and form you desire! The other benefit is that, when homemade, you can mask some of the bitter and earthy flavor notes of cannabis. 
Creating a THC Infusion for Edibles  
Infusion is the process of imparting the flavor and medicinal benefits of flower into a carrier medium. Carrier mediums include oils, butter, milk, honey and other fats. Crafting a potent THC infusion suitable for candy-making is easy with the LĒVO line of infusion machines. To get started, all you need is your favorite cannabis strain, a carrier, and a LĒVO infusion machine.
Choosing an infusion machine to meet your needs is simple. The LĒVO II is the world's first automated infusion machine. The intuitive touch button system and precise time and temperature controls let you create high-quality infusions at home for pennies on the dollar. Unique dry and activate, or decarb, modes help you get the most out of your oil infusions by extending shelf life and increasing potency. 
The LĒVO Lux adds refined luxury to any kitchen. The LĒVO Lux has an elegant touch screen and improved dry and activate cycles. It also includes three distinctive dispense modes and a newly designed lid with a push button release. It's metallic finish shines on any countertop.
If you want to create edibles for everyone you know or perhaps you are starting a small business, the LĒVO C is your machine. The LĒVO C is perfect for crafting large-batch infusions without breaking a sweat. The entire LĒVO lineup of infusion machines also features 100% dishwasher-safe, non-toxic parts making clean up a breeze. 
Making your own THC infusions with a LĒVO infusion machine is safe, easy, and cost-effective. Select your favorite cannabis strain and carrier oil. MCT or coconut oil are good options for mouth-watering edible gummy worms. These oils both have a mild flavor that won't compete with the taste of your candy. 
Making Two-Tone THC Gummy Edibles the Easy Way 
Want homemade THC gummy worms in a flash? Take advantage of a LĒVO shortcut with the LĒVO line of Gummy Mixes. Each bag of gummy mix includes everything you need to make flavorful gummy edibles at home. You only need to add water and THC-infused oil. The Gummy Mix Variety 4 pack is an excellent choice for making edible gummy worms because you can mix and match the flavors to create your unique two-toned worms. Any of the LĒVO Gummy Mixes can make outrageously delicious flavor combinations. 

You may be thinking that creating dual-flavored worms is overly complicated but it truly couldn't be easier with the unique LĒVO Gummy Worm Silicone Molds. Each tray makes 24 worm-shaped gummy edibles. The food-grade silicone molds include dividers, so you can easily make two-toned worms that will turn out just like the ones you see in the store! Using half a bag of LĒVO Gummy Mix will be enough gummy mix to fill up two trays. They also come with snap-on lids for easy and long-lasting storage and labeling.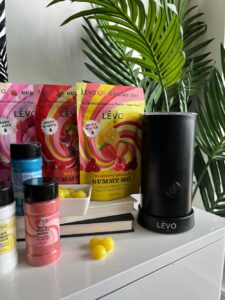 LĒVO has taken another step to help you create the best-tasting THC gummy worm edibles with the LĒVO Gummy Candy Mixer. Small but mighty, this candy mixer features precise temperature controls and stirring modes. You never need to stand over a hot stove and stir until your arm aches to make gummy edibles again. This mixer gives you perfect, soft, gummy edibles every time. Pair it with LĒVO's Gummy Mixes and Gummy Worm Silicone Molds and you have everything you need to make two-toned THC gummy edibles in a snap, with minimal work and cleanup required. 
Add on another layer of goodness with a sour punch! Sprinkle your finished gummy worms with the LĒVO Sour Gummy Sugar to create high-quality sour gummy worms. A plus, the sour sugar will not only add flavor but also help keep your yummy gummies from sticking together.