Weed oil is the main ingredient for many marijuana recipes. Of course, you can use it for cooking, but did you know that weed oil is also perfect for baked items like brownies? So how exactly do you make weed oil? This article will teach you the basic skills you need to begin cooking with it.
Because weed oil is so flexible, it's probably the most versatile and easy-to-use medium there is. It may be used to bake brownies, sauté vegetables, fry your morning eggs, or serve as a great salad dressing. 
Choosing the suitable cooking oil base for your weed oil
Selecting a convenient cooking oil base is crucial, as the oil should be light and taste neutral enough to let your weed flavor shine through. Olive oil for example, is great for usage in salad dressings, but would interfere with the brownie flavor if used for this recipe.
That said, there are a lot of oils that work well in baking! Rather than using a vegetable oil like sunflower or canola, we recommend opting for something more nutritious and healthy: cannabis-infused coconut oil. It's available in most supermarkets nowadays, and it tastes much better than vegetable oils. You can also try infusing your own using the LEVO II.
If you're looking for something with a more pungent taste, infused olive or avocado oils are a great option. Both are suitable for long-term storage in your pantry and can stand up to the cannabis flavor. One of the most unexpectedly delicious desserts we've ever tasted was an olive oil ice cream, so go ahead and be creative when playing around with oils.
How to Make Cannabis-Infused Oil
There are many ways you can infuse your oil with cannabis, and it depends on how much weed you're going to use! Our favourite method is employing the LEVO II machine. It's simple, mess free, and truly helps to take the confusion out of infusion.
Decarboxylation Using a Machine like the LEVO II
The LEVO II is a simple-to-use decarboxylation device that can make cannabutter, THC-infused oils, CBD salves, and other everyday infusions. In addition, it's an excellent decarboxylation machine for making marijuana-infused goods, such as chocolate bars, oils and salves.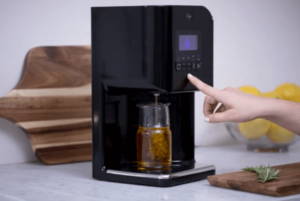 The LEVO II comes with a few accessories, including the stainless steel basket utilized for simmering herbs or decarboxylating your cannabis. This basket is elevated by four-point feet, keeping it firmly in place and allowing the oil to circulate.
The benefit to this decarboxylation process is that it doesn't require any stirring. The device has an on/off switch and LED lights that indicate when you should start timing (five minutes before it is done). You can then use this machine to make cannabutter, THC oil, CBD salves, water hash, tinctures, and more!
Looking to try it by hand? Here's another simple recipe you can try at home. 
Ingredients:
1-2 cups of weed flower

1-2 cups of cooking oil (oil to weed ratio 1:1)

Cheesecloth or strainer

Grinder

Saucepan
Procedure:
Grind the weed. You can use a grinder if you have one, but crushing the weed with your hands works too.

Put weed in the saucepan and add oil to it. Add more oil than you think you'll need as it will reduce during cooking, and the ratio of oil to weed will be 1:1.

Be careful not to burn the oil/weed mixture! Cook for a while on low heat (below 250 degrees). Simmer, stirring occasionally until done (about 2 hours), then strain out plant matter through cheesecloth or strainer into a jar or bowl.

Strain the oil and store it. You should avoid squeezing the cheesecloth; doing so will increase the amount of chlorophyll in your oil. You can discard the remaining plant material or use it for another dish. If properly stored, the shelf life of this oil is at least 6 months. Storing it in the fridge will help to preserve it even longer. 
Once you have your infused oil prepared you'll be ready to make your weed brownies! For the best pot brownie results, you'll want to use a dark or medium brownie mix. Use your prepared weed oil and add it to the brownie batter right before baking.
We hope you enjoy your delicious cannabis-infused brownies!