Has it been a while since you used your home infusion machine? Looking for something new to create? Try making weed infused drinks! We have gathered some of the most exciting and easiest recipes you can try at home. Whether you want to have an extra kick in your everyday refreshments or impress some friends you are having over with your mixing skills, these recipes are great to help you enjoy drinking your cannabis. Check out these THC drinks that you can make at home easily!
1. Weed Infused Kombucha Kombucha
Kombucha is a great fermented tea that you can make without hassle. It offers many health benefits and makes an excellent substitute to soda if you're looking to make some healthier choices.
Kombucha also offers an array of health benefits and even more so with some help of our favorite herb, weed!
Making kombucha at home is also a great alternative to buying the drink, much like any other homemade vs. store-bought argument out there. Consider enjoying your next kombucha drink with this cost-effective weed recipe!
2. CBD Infused French 75
Do you enjoy making and drinking cocktails? Are you looking for a new recipe to try and impress your friends for a holiday? If you're feeling adventurous with crafting cocktails, try incorporating CBD into your next creation.
This classic drink has a lot of room for experimenting and is a great canvas to add cannabinoids. It's also a great recipe to try if you plan to have other weed infused foods with your beverage. Remember to be responsible with your alcoholic drinks, especially weed infused ones! [Full Recipe]
3. CBD Infused Lemonade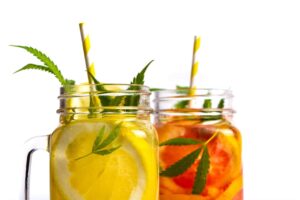 There is no bad time to enjoy a fresh lemonade. It's one of those types of drinks that go well with any occasion, regardless of the season or event. A lot of people grew up learning how to make this classic. Even if you didn't, it's a straightforward recipe that you can make whenever you want an exciting refreshment.
Infusing your lemonade with CBD helps you relax without worrying about the psychoactive effects of THC (you might want to save those for other events). CBD infused lemonade also makes a great ingredient for other drinks! Try this versatile drink the next time you fire up your infusion machine.
4. Marijuana Milkshake
Marijuana milkshakes – the infused dessert in drink form! A fairly easy drink to make, this recipe gives you a lot of room to customize this beverage to your liking. From vanilla, to chocolate, cookies and cream, peanut butter and beyond, a marijuana milkshake is a guaranteed blended good time!
5. Cannabis Coffee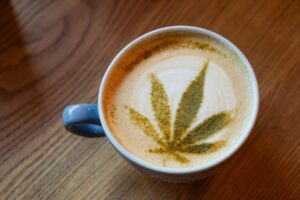 If you are among the millions of Americans who enjoy coffee, then you're in for a treat with this cannabis coffee recipe. Most coffee enthusiasts like the drink for its stimulant properties. Cannabis has similar properties, so combining these two stimulants is sure to give you a beverage with a kick.
Whether you want to create cannabis coffee for yourself or a group, this recipe is likely to be your next go-to pick-me-up.
6. Spicy Caesar With Cannabis Infused Rimmer
Are you a fan of savory drinks? Treat yourself to this delicious recipe and expand your palate to the exciting flavors of this cannabis cocktail! The spicy Caesar is a great party drink and hangover cure, especially when infused with that little extra cannabis kick!
This cannabis infused rimmer is the perfect talking point for your next family get-together or Galentines brunch. Cheers!
7. Weed Tea
How do you like your tea? Regardless of how sweet or strong you like this beverage, infusing your next pot with weed will surely help you take advantage of the effects that you expect from tea alone.
With your handy home infusion machine, you have everything you need to successfully make weed tea for however many people you plan to serve. LĒVO machines dry, activate and infuse to make the process of home infusion and weed tea steeping a total breeze!
8. CBD Superfood Smoothie
Just when you thought you could no longer stuff more nutrients in your superfood smoothie, here comes CBD that you can easily infuse using your LĒVO home infusion machine. This recipe will help you reap the benefits of CBD, including calming and pain-relieving effects on top of the essential vitamins and minerals from your regular smoothie.
Like the other weed infused drink recipes on this list, this CBD superfood smoothie is another way to elevate the health benefits you reap from regular recipes. If you normally make smoothies intending to ingest certain nutrients, CBD is likely going to complement your goals. Try it now!
Make Your Next Homemade Weed Infused Drink with a LĒVO Home Infusion Machine! If you are eager to try these drink recipes at home, then fire up your LĒVO home infusion machine! Whether you have the sleek LĒVO II, the luxurious LĒVO LUX, or the large-batch-making LĒVO C, you can bring any of these eight recipes to life! New to the realm of LĒVO? Find the machine that's right for you here.
You can expand your creativity even further with LĒVO's blog full of meal and dessert recipes to pair with your drinks. Learn more today on LĒVO!