This is the third post from Chron Vivant as part of his LEVO blog takeover. If you've followed along, you've used some infused olive oil to make an olive oil cake, infused olives, and fat-washed gin. And here's TWO 'tails from the medicated master of canna-infused drinks. One savory cocktail and a bubbly cocktail with an easy mocktail option.
"New Year's Eve is like any other eve to me: I drink." -Bukowski
On New Year's I typically start off my night with a glass or two of champagne (or a French CBD5), and then graduate to a gin-based spirit like the Martini.
There are many interpretations of the iconic Martini but no matter how hard one tries, simplicity always wins.
Alongside my recent obsession with crafting artisanal flower oils in my new LEVO lie my attempts to incorporate those infusions into classic cocktail recipes.
I happened to have some leftover flower-infused olive oil (from my olive oil cake recipe) that I wanted to incorporate it into a cocktail, so I developed this olive oil fat-washed gin martini with our infused olive garnish.
I absolutely love fat-washing spirits and personally find that using gin that is washed with infused olive oil imparts a delicious savory and fruity note that complements the botanicals and adds a luscious mouthfeel to the drink, but does not contain enough T-C to create any negative synergistic effects.

Flower-Infused Olive Oil-Washed Martini Recipe:
Glassware:
Ingredients:
2 ounces of flower infused olive oil washed gin (best with a savory gin, I went with No. 3 London Dry Gin)
.35 ounces dry vermouth
3 drops of flower infused olive brine (I enjoy mine with a bit of the brine from the olive garnish infusion and find the saline notes help to round out the drink)
Garnish:
Drink Preparation:
Add ice to a mixing glass.
Add the fat-washed gin and vermouth and stir until thoroughly chilled.
Strain into a chilled martini glass, and add 3 drops of flower infused olive brine.
Garnish with a flower-infused green olive.
And there you have it. The Martini, with its tried and true ingredients and refined presence, is a perfect drink to celebrate with. It's an iconic libation that will never go out of style. Hope you enjoy my savory, infused twist!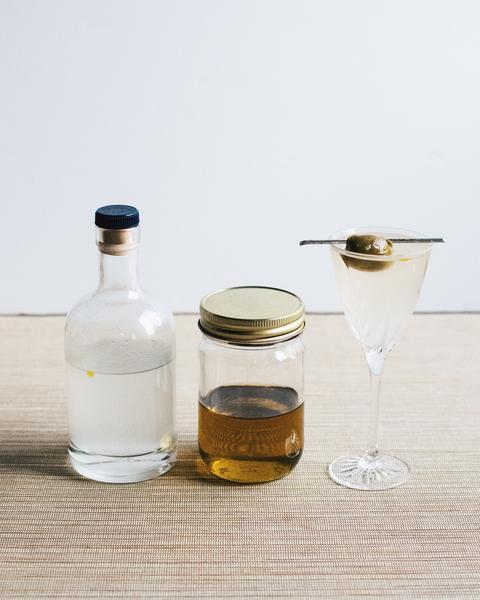 During most New Year Eve symposiums I can typically be found with a champagne flute in one hand and a joint in the other – not always a seamless pairing, and certainly less fun the morning after.
A little indulgence is fine every once in awhile but Chron Vivant is all about promoting responsible consumption, so I wanted to highlight a non-alcoholic drink alternative (with an optional flower-infused garnish) that's perfect for those looking to partake in the festivities without the post-party headache.
When I think of New Years libations my mind automatically goes straight to champagne. And what better way to put an even more celebratory twist on the traditional glass of bubbly than with a sparkling cocktail?
One of my favorites is the classic French 75. Dead simple to execute. The original is made with gin, fresh lemon juice, bitters, and bubbles and is the perfect canvas to play with.
I call my zero-proof interpretation the French CBD5. This potable is built by substituting the gin and champagne for premium sparkling tonic and a bitters + CBD soaked sugar cube (you can always leave the CBD out for an equally tasty non-medicated sparkling beverage).
The French C-D5 has a similar botanical flavor profile as the gin-based version and the addition of CBD should help aid in relaxation and improved mood.
And of course when you're drinking you need to make sure you have food in your stomach, so I like to pair this mocktail with a microdose flower-infused olive oil cake garnish for good measure.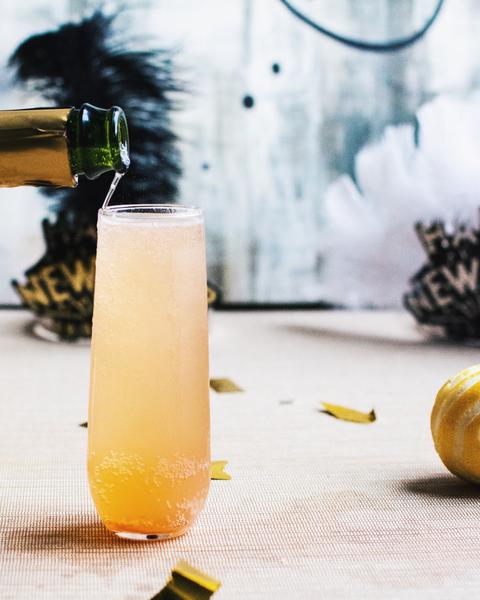 French CBD5 & French 75 Recipes:
Tools:
Glass:
Garnish:
lemon twist and rosemary sprig
CBD5 Ingredients:
1 cup of ice
1.5 ounces fresh lemon juice
1 C-D and bitters soaked sugar cube
2 dashes orange bitters
4 ounces premium tonic water (Fever Tree – get the Light kind, it has less sugar)
Preparation:
Drop a bitters-soaked sugar cube into a champagne flute or coupe glass.
Add fresh lemon juice and citrus bitters to cocktail shaker filled with ice.
Shake and pour in your prepared glass.
Top off with about 4 ounces of tonic water.
Garnish with the a sprig of fresh rosemary and serve.
Classic French 75 Ingredients:
1 oz. gin
1 CBD and bitters soaked sugar cube
¾ oz. fresh lemon juice
3 oz. champagne or other sparkling wine
Preparation:
Combine the first gin and lemon juice in a shaker with ice.
Shake and strain into a chilled glass.
Top with champagne and garnish.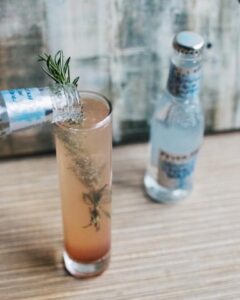 Celebrate responsibly and be sure to tag your NYE cocktails #LEVOmade @LEVO_Oil
Looking for a different kind of infused drink? Check out our Boosted Mocha & Tumeric Latte recipe here!
Recommended Posts: