One of the reasons cannabis is so popular is that it is incredibly versatile. Many people enjoy the recreational and medicinal effects of smoking, vaping, edibles, and tinctures. Yet, one method of consumption people find increasingly appealing is applying cannabis to the skin through topicals. 
Topicals offer a means of delivering the benefits of THC in ways that can benefit everyone. Furthermore, many cannabis enthusiasts find topicals appealing because they are easy to make at home. If you are new to topicals, read on to find out what they are, how they work, and how you can benefit from using them.
What Are THC Topicals?
Cannabis topicals are cannabinoid-infused products intended for application on the skin, hair or nails. These products are not intended to be smoked or ingested. Topicals work their magic by absorption through the skin or application on one's hair or nails. Topicals can contain THC, CBD, or a combination of both, in addition to a wide range of other cannabinoids.
How Do THC Topicals Work?
Most cannabis products work by entering the bloodstream via the lungs or digestive system. From there, the circulatory system brings THC to the brain, where the molecules interact with our endocannabinoid system. This system helps to regulate functions such as mood, digestion, and immunity. THC tends to bind strongly to CB1 receptors in particular, causing the euphoric high we experience after consuming it. 
However, topicals do not enter the bloodstream directly. Instead, the THC from topical products interacts with CB1 and CB2 receptors in the skin. That means topicals can provide direct relief to specific areas of the body, offering relief from conditions such as, but no limited to:
Inflammation

Nerve pain

Arthritis

Muscle cramps

Headaches and migraines
Can I Get High from Topicals?
In general, most topical applications of THC will not cause a cerebral "high", which is why many people gravitate towards using cannabis in topical form. In most cases, using topicals will not show up on a drug test. However, there are some exceptions. Some THC sexual lubricants may be able to enter the bloodstream, as can some transdermal patches and gels. These products do have the ability to get you high and may cause a positive drug test result.
Five Essential Topicals
Topicals offer a wide variety of uses and can relieve many ailments. It's a great idea to keep a selection of them available for home use as part of your first aid kit. Some of the most useful topicals include:
1. Salves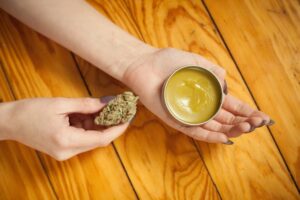 Salves are healing ointments you apply to your skin. They can be made with base ingredients such as:
Coconut oil

Almond oil

Jojoba oil

Olive oil

Different types of butter

Beeswax
The specific proportion of ingredients usually makes salves semi-solid at room temperature. As with any infused product, the effects of your salve will depend on what type of cannabis you use. Many people use THC salves to relieve:
Skin conditions, such as psoriasis, eczema,

acne

, or rashes

Inflammation

Sore joints

Sun spots 

Muscle aches

Carpal tunnel syndrome
Many people believe that THC salves are also effective at treating skin cancer cells.
If you're interested in making your own homemade THC salves, try from our library of recipes including:
2. Creams and Lotions
Cannabis creams have a more liquid consistency than salves, making them a bit easier to apply. Many people turn to THC creams and lotions to combat dry skin in areas such as the elbows and knees. Others use cannabis creams as facial beauty treatments, counting on their antioxidant properties to reduce the appearance of aging or as an anti-acne treatment. You can make homemade lotions or simply add a drop or two of THC oil after pumping your usual cream into your hand.

3. Oils
THC oil can be used both sublingually and topically. If you choose to apply THC oil to your skin, it is recommended to first mix it with a carrier oil such as almond or jojoba oil. You can apply THC-infused oil all over your skin for enhanced moisturizing effects.
4. Gels
THC gels are products that can effectively target pain in deep muscles, joints, and nerves. Because they are highly concentrated, you may not need to use much to achieve your desired effects, which you can typically begin to feel within five minutes after application.
5. Bath Bombs
Bath bombs are among the most fun methods of delivering THC to your system and many people find them highly effective. Because your skin is absorbing cannabinoids as you soak in a bath, your open pores may allow more of the compounds to reach deeper layers. As a result, THC bath bombs offer an excellent way to relax deeply while nourishing your skin with the various health benefits of cannabis.
Making Homemade Topicals
While there are plenty of THC topicals on the market, making lotions, salves, bath bombs and other options at home can offer many benefits, including:
Cost-effectiveness – Procuring the raw ingredients is often significantly less expensive than purchasing ready-made topicals.

Quality control – Many people have sensitivities to ingredients in some topicals, such as preservatives or added colorants. Others may wish to strike a specific balance in the ratio of THC and CBD in their topical products. Making topicals at home allows you to take control of these factors. 

Creative control – Making your own topicals gives you an opportunity to use the fragrances and essential oils that you desire, if you desire them.

Fun – Making lotions and bath bombs can be fun! Plus, knowing that you are creating something, with intention, that will benefit your health and well-being can enhance the overall experience that much more!
While you consider the idea of making topicals at home, you may find yourself worrying about how complicated the process seems. You may also find yourself wondering how messy the process of edible making is at home. 
LĒVO home infusion machines are here to ease those worries! LĒVO streamlines the process of creating homemade edibles and topicals. Devices such as the LĒVO II, LĒVO C, and LĒVO Lux do all of the hard work for you, while eliminating the mess, so you don't have to worry about under-infusing, burning your herbs or a sink full of dirty dishes. The removable parts of all of LĒVO's infusion machines are dishwasher-safe, making cleanup is a breeze. The LĒVO difference means convenience, consistency and reliability. 
If you are unsure about how much product to include in your topical recipes, Cannabutter Digest's dosage calculator is an online tool that takes much of the guesswork out of finding the appropriate dose. With all these tools available, there's no reason to overspend on store-bought products.
Related Posts: