Making a homemade infused acne salve is a simple process that requires just a few ingredients. If you ever wanted a gentle, natural acne treatment, now you can make your own using this recipe.
The cannabis-infused salve may be an effective option for those suffering from skin problems but have found no relief from over-the-counter and prescription treatments.
Many botanicals, cannabinoids, and terpenes have anti-inflammatory, antifungal, and antibacterial properties that may prevent and treat acne. When you add infused shea butter to Vitamin C, rosehip seed oil, tea tree, and lavender oil, you'll have a combination for treating and preventing acne.
How Does an Infused Acne Salve Work on My Skin?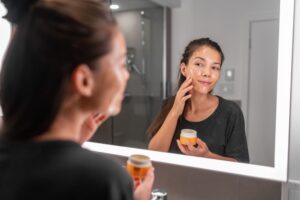 Acne happens when hair follicles get clogged with oil and dead skin cells. This condition causes an inflammation of the skin that results in conditions like whiteheads (closed clogged pores), blackheads (open clogged pores), large bump-like modules, and pimples.
However, terpene and cannabinoid anti-inflammatory properties can alleviate acne discomfort and irritation. Cannabis is rich in fatty and amino acids, which are good for rejuvenating the skin. THC has antifungal and antibacterial properties, and it helps skin restore balance. CBD is a powerhouse in terms of anti-inflammatory effects.
The combination of these ingredients provides wonderful nourishment for the skin and maintains ideal hydration and pH levels. The rosehip seed oil contains Vitamins B, C, and E. It hydrates the skin and fights free radicals. Rosehip improves skin elasticity which is important for skin recovery after a breakout and scarring. Vitamin C promotes collagen production necessary to improve skin elasticity. Lavender has a calming effect on irritated skin as well.
Making your own infused acne salve at home is easy with LĒVO. Follow the guidance provided below or learn more about what sets LĒVO apart from other infusion machines here.
Decarbing Your Flower and Infusing Shea Butter
Decarboxylation involves heating raw flower so that terpenes are more easily absorbable. Terpenes become active at 220° Fahrenheit, and it causes the release of carbon dioxide and the formation of new molecular structures.
If you don't have a LĒVO yet (and why not?) but still really want to make this home, helpful recipe, you can find those old, manual instructions here.
To decarboxylate ('decarb') your raw flower, you can decarboxylate using a traditional method (linked above) or by using a LĒVO home infuser. As a far better choice, it offers an easier and more accurate way to dry, activate, and infuse your herbs to your carrier oils.
When compared to the conventional method of heating your precious flower in the oven and then infusing it using the stovetop, double boiler, slow cooker, or other primitive cooking utensils, your optimal choice is clear.
A LĒVO home infusion machine is essential if you frequently plan to make herb-infused recipes from infused topicals like salves to high-end entrees to amazing, yet healthy treats. LĒVO home infusers allow you to program and adjust the most effective heat and duration settings for specific terpene profiles.  Infuse shea butter at 160° for 2-5 hours, and add a second power pod to your LĒVO II for more herb capacity. Some compounds are more heat-sensitive than others, so adapting the settings allows greater control over potency. Here's our time and temperature calculator for your further reference.
Contact Us for More Information about Home Infusion Machines
Please contact us if you want to know more about using a home infuser to make salves, lotions, lip balms, and more. A Cannabutter Digest representative would be happy to answer your questions about how a LĒVO home infusing machine would suit your needs.
Other THC Topicals to Try: