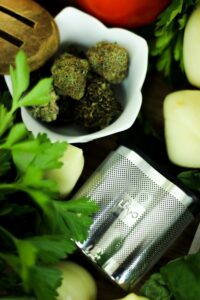 An increasing number of people who enjoy using recreational marijuana choose edibles as their preferred method of consuming cannabis. However, the effects of many edible cannabis products are either too weak or too strong. This has increased the interest in DIY methods for making pot brownies, candies, gummies, dressings, sauces and more. Making your own edibles at home allows for much more control over the potency and the quality of ingredients.
One of the key factors contributing to the strength of your experience after consuming THC-infused foods is the amount of time the weed is infused in the butter, honey, or oil with which you are making them. Timing your infusion perfectly will ensure you have a well-made product that delivers the desired experience.
The Importance of Decarbing
Before you begin infusing, it is essential that you first decarboxylate, or decarb, the marijuana you are planning to infuse. This refers to the process of converting the THCA or CBDA into THC or CBD proper. Otherwise, you may not feel the psychoactive effects of the marijuana.
Traditionally, this has been done by gently heating the bud in the oven. However, LĒVO makes it much easier to decarb your ganja in an odor-free manner. The LĒVO II, the LĒVO Lux, and the LĒVO C (ideal for larger batches) have an "activate" setting that effectively and efficiently decarbs your cannabis so it can be ready for the infusion process.
Ideal Infusion Times and Temperatures
The amount of time it will take and the heat you will use to infuse your bud largely depend on the medium you choose for your infusion. Keep in mind that longer infusion times will not always lead to more robust results.
Honey or Syrup
Infusing honey or syrup with cannabis is an excellent way to sweeten your edible experience. Cannahoney can be added to a cup of tea or spread on a slice of toast, and canna-syrup is a delicious addition to your Saturday morning pancakes or waffles.
The ideal temperature for infusing honey or syrup is 105ºF. Depending on the strength you prefer, you should aim to infuse for between two and four hours. Because honey and syrup are not oils, you should also add some lecithin, a common food additive that acts as an emulsifier. This can help ensure that an even infusion takes place. The ratios to aim for are one teaspoon of lecithin for two cups of liquid or two teaspoons for four cups of liquid.
You can read more about making cannahoney here.
Milk or Cream
Cannamilk and cannacream are great to drink on their own. Alternatively, add them to coffee or use them as ingredients in your other reefer recipes.
The infusion temperature and time for milk or cream is 165ºF, for between one and two hours. Because of the fat content in these liquids, lecithin is not an absolute necessity. However, adding it to the mix may enhance the effects of the active ingredients.
Butter or Ghee
Whether you are baking or spreading it on a toasted muffin, infused butter and ghee are tried-and-true methods of consuming cannabinoids.
For the ideal cannabutter or cannaghee, you will want to infuse at a temperature of 170ºF for five hours. Because butter and ghee are lipids, you do not need to add lecithin during the process.
 You can read more about making cannabutter here.
Olive Oil
Olive oil is another excellent medium for delivering the effects of THC and CBD. Many like to use it as an ingredient in their salad dressing or incorporate it into their pasta dishes.
As with cannabutter, the infusion temperature and time for olive oil is 170ºF for five hours.
Other Cooking Oils
Other fatty substances such as coconut oil, MTC oil, or blends such as MCT/avocado oil can be infused at the same time and temperature as olive oil: 170ºF for five hours. However, some people choose to go low and slow, infusing at 160ºF for 10 hours.
When pure avocado oil is infused with bud, it is especially great for foods like fried eggs. This is because this oil can withstand higher cooking temperatures. For this reason, the infusion temperature for avocado oil is also higher, at 185º for five hours. It should be noted that MTC oil can also be infused at temperatures this high.
Shea Butter or Cocoa Butter
In addition to edibles, you can infuse skincare products such as shea butter or cocoa butter with cannabis. These body butters have antioxidant properties that are excellent for improving skin health – with anti-inflammatory and anti-aging benefits. Furthermore, the effects of THC and CBD are absorbed into the body through these butters which can help target specific areas of the body where you may be experiencing pain, stress, or tightening.
The ideal infusion temperature and time for these topical cannabutters is 160ºF for two to five hours.
Optimize Your Infusions with LĒVO
Making cannabis infusions at home is a cost-effective way to control precisely what is going into your oil, honey, or butter… yet, getting it right can be tricky. While it is possible to decarb and infuse cannabis using an oven and a stovetop, it can be incredibly challenging to ensure that the times and temperatures you use to conduct your infusions are precise enough to achieve your ideal level of potency.
Using LĒVO's infusion machines takes all the guesswork out of the process. The LĒVO II, LĒVO C, and LĒVO Lux allow you to decarb your weed and infuse it in the same pod. You can set the exact temperature and time with ease and be confident that you will get consistent results. When the infusion is finished, you can transfer it into a container and it will be ready to use immediately. Furthermore, all three of these machines are easy to clean and most parts are dishwasher safe.
LĒVO's infusion machines streamline every aspect of your homemade edibles process, providing consistent herbal infusions without all the fuss. Try one today to see how simple infusing and edible-creating can be! LĒVO's even gone so far as to create the Elevated Edibles Masterclass, designed to help you learn all aspects of homemade edible making in just 1 hour!
Related Posts: