Whether you prefer worms or bears, sweet or sour, most people have a soft spot for gummies. These delectable treats are easy to eat and even easier to make. Especially if you have an infusion machine like the LĒVO II, LĒVO Lux, or LĒVO C. These machines can help you make THC gummies by infusing your oil of choice with hemp or cannabis. Once you have your THC-infused oil of choice on hand, making candy is fun and easy.
LĒVO Home Infusion Machines
The LĒVO family of infusion machines makes creating your own infusion blends easy. The LĒVO II, LĒVO Lux, and LĒVO C can infuse oils, butter, honey, and other substances so you can easily create homemade edibles and even skincare products.
The LĒVO C is perfect for creating large batches and is best for frequent users or small businesses. It includes a one-liter glass basin specially designed for crafting larger infusion batches. The LĒVO II and LĒVO Lux are great for everyday use and use similar technology to help you get the most out of your herbs and plants. The LĒVO II and LUX include a dry mode that prepares your herbs for infusion and helps increase their potency and extend the shelf life of your creation. All the parts are non-toxic and dishwasher safe, making cleanup a breeze.
The LĒVO Lux adds a touch of elegance to your kitchen. The Lux has a sleek design and mirror-like finish in colors like black steel, stainless steel, gold, and French copper. The LĒVO Lux includes an improved dry+ cycle. The new dry+ cycle more effectively removes moisture from herbs and plants before the infusion process using a mini-HVAC system. The machine also features three unique dispensing modes. You can choose the one most appropriate for the infusion you are crafting. LĒVO Lux even takes the guesswork out of creating infusions with precise time and temperature settings.
Any of the LĒVO home infusion machines can help you make THC infusions, which you can turn into flavorful gummy candies. Each LĒVO machine includes a one-year limited manufacturer's warranty and can fit easily on a kitchen counter.
Why Make Candy Yourself?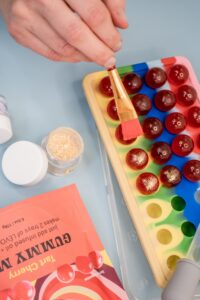 Store-bought gummies contain mountains of sugar, artificial flavors, and preservatives. When you make candy at home, you get to control the ingredients. You know what is going into your candy and your body. You also don't have to settle for a bag filled with flavors you may or may not love. When making candy at home, you can tailor each batch to your unique taste preference, meaning you'll never be stuck with a leftover container filled with a flavor that is not your favorite.
Another advantage to making gummy candy at home is the price. THC gummy candy can be expensive. When you make it yourself, you save time and money. You can also control the potency and batch size, so you always come out with exactly what you want.
The first step in the gummy candy-making process is creating your oil infusion. Coconut oil is a popular choice for gummy candy. Select your hemp or cannabis plant, put it into the power pod, and get ready for a THC coconut oil infusion that is perfect for candy making. Another popular oil used in candy making is MCT oil. MCT oil has nearly no taste or smell, unlike some coconut oils. It is also naturally rich in medium-chain triglycerides. MCTs are popular because they help improve energy levels, boost endurance, and may aid in weight loss.
Select your plant, select your oil, and then let your LĒVO II, LĒVO Lux, or LĒVO C do the rest of the work for you.
You can create a wide range of gummy candies including gummy worms. The only limit is your imagination. To help get you started on your gummy candy-making journey, try this THC Gummy Candy recipe!
Related Posts:
Other Recipes Worth Trying!