It's been a while since the regulation on hemp products containing CBD eased up. Now that the market is more open, CBD products are seemingly available everywhere. You can commonly find CBD in oils, topicals, coffee, tea, and other drinks. Even activewear and pet water can contain CBD now!
With the growing popularity of CBD, it's no surprise that CBD-infused drinks are now a thing. But what exactly are they?
CBD drinks are simply beverages that contain CBD. CBD is short for cannabidiol, one of the many cannabinoids in the cannabis plant. Unlike delta-9-tetrahydrocannabinol or THC, CBD is not psychoactive, so it will not get you high.
These drinks offer a convenient way to get your dose of CBD, and they can be enjoyed anywhere and at any time. Whether you're looking to relax after a long day or want to enjoy the benefits of CBD on the go, CBD drinks are a great option.
How Do CBD Drinks Make You Feel?
CBD is known for its calming and relaxing effects. So, it's no surprise that CBD drinks can put you in a similar disposition. CBD can help reduce anxiety and stress and promote a sense of calmness and relaxation.
For some people, CBD can also help to improve their focus and concentration. And, because CBD is non-psychoactive, it will not interfere with your daily activities or impair your cognitive function.
Are CBD Beverages Safe?
CBD is generally considered safe to consume. Aside from not having psychoactive properties, the World Health Organization Expert Committee on Drug Dependence found that pure cannabidiol does not pose a potential threat for abuse or dependence.
Of course, as with anything, it's essential to be aware of the quality of the product you're consuming. When it comes to CBD beverages, check the labels to see where the CBD is sourced from and what other ingredients are included in the drink.
It's also important to note that CBD can interact with certain medications. If you're taking any medication, it's always best to speak with your doctor before partaking in CBD products.
Will CBD Drinks Get You High?
No, CBD drinks will not get you high. As we mentioned earlier, CBD is non-psychoactive, so it will not produce any psychoactive effects.
CBD is often confused with THC, the cannabinoid responsible for the psychoactive effects of cannabis. However, CBD will not cause any mental or physical impairment, unlike THC.
However, even without the psychoactive action, CBD is enough to give you the long-lasting relaxation you need.
How Long Do CBD Drinks Take To Kick In?
The effects of CBD drinks can vary depending on a few factors, such as the type of drink, the amount of CBD consumed, and your body chemistry. In general, however, you can expect to feel the effects of CBD within 10 to 30 minutes and it can stay in your system for up to 3 to 4 hours.
If you're new to CBD, it's always best to start with a small dose and increase as needed. This volume will help you to find the perfect amount for your needs without consuming too much.
Do CBD Drinks Help Relieve Anxiety?
CBD is often used to help promote relaxation and calmness. So, CBD drinks may help to relieve anxiety. However, it's important to remember that not all CBD products are created equal, and some are specifically formulated to help ease anxiety, while most are simply designed for general relaxation.
Benefits of CBD Drinks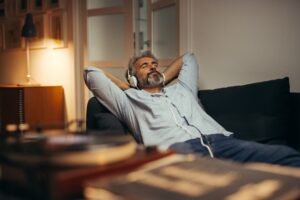 CBD-infused drinks offer a convenient way to get your CBD fix and come with many potential benefits.
As mentioned, CBD drinks are marketed and formulated to relieve tension. However, some people find that CBD helps to improve their focus and concentration. Others claim that CBD drinks have enabled them to reduce insomnia and get better sleep. There are also some instances where CBD drinks have helped people with inflammation and pain relief.
CBD drinks are also an excellent option for those who don't like the taste of CBD oil or other CBD products. And, since they come in drink form, the CBD content gets easily absorbed by the body, making for a quick and convenient way to diffuse stress.
About Bimble
If you're looking for a delicious way to enjoy the benefits of CBD, check out Bimble!
Bimble offers a line of sparkling CBD drinks made with natural ingredients, raw honey, and no preservatives. They come in three delicious and refreshing flavors: Cucumber Melon Lime, Blueberry Lemon Ginger, and Grapefruit Basil Mint.
Each bottle contains 25mg of broad spectrum CBD, as well as CBN, CBC, and CBG that produce the "entourage effect" for maximum calm and relaxation.
Bimble's sparkling CBD drinks are the perfect way to enjoy the benefits of CBD without any psychoactive effects. They're perfect for on the go or to sip any time of the day! Whether you're headed to the gym, taking a break at work, or enjoying a night out with friends, Bimble has you covered.
Find Your New Favorite CBD Drink Here
There's no doubt that CBD is having a moment. This natural compound, found in the hemp plant, has been shown to provide various benefits to the mind and body. And now, you can enjoy these benefits deliciously and conveniently with Bimble's sparkling CBD drinks!
So, what are you waiting for? Check them out and experience the relaxing effects of Bimble sparkling CBD drinks yourself! One sip to take all your worries away!
Sources:
Related Posts: