What are Weed Brownies?
Weed brownies are yummy, sweet, chocolatey, baked goods complete with a dose of cannabis. Weed brownies are probably the most well-known cannabis edible. Now that so many states have legalized cannabis and even more states have medical marijuana programs, edibles have become increasingly popular. With their increased popularity, consumers are now wanting to bake their own brownies with their preferred dose of cannabis more than ever.
How Much Does It Cost to Make Weed Brownies?
To make your own edibles, seven grams of cannabis is typically a good amount to start with for a dozen brownies. The cost of making homemade weed brownies is the cost for seven grams of cannabis plus the cost of the ingredients for the brownies. The price of cannabis varies due to quality and where you buy the product from.
Prices for pre-made weed brownies sold at a store can span a wide range. Professionally made brownies from an edibles baker who uses only the best cannabis in their cannabutter will be relatively expensive. However, brownies made at home in your own kitchen will likely cost much less.
Another factor that can affect the price of your homemade brownies is determining how much THC is in the brownie. A professional baker will sell very consistent products, and they may even lab-test their products to precisely measure the THC content. Making brownies at home may not have that same level of consistency. They might be too strong or not strong enough. Homemade brownies may require trial and error and several batches to determine how much cannabis or cannabutter to include in your homemade endeavors.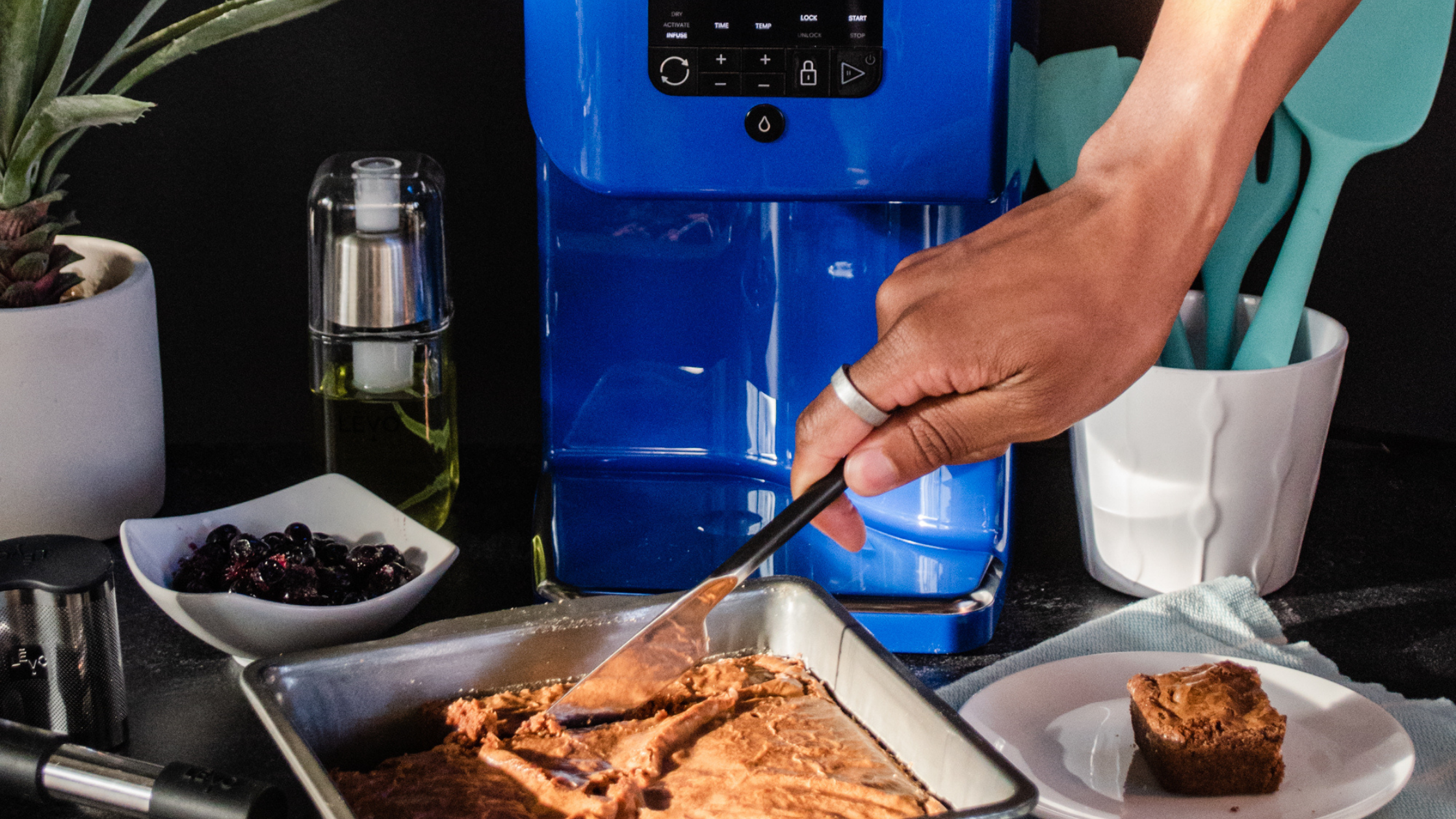 Cannabutter and Weed Brownies
Once of the first things to know about how to make weed brownies or any other edible is how to make cannabutter properly. Cannabutter is butter with "activated" cannabis in it.
Activating the cannabis requires heating it gently until the body can absorb the THC. The process is called decarboxylating cannabis, or decarb. It can be done in the oven by picking apart the buds to ensure the decarb is even and thorough, then putting the cannabis on a baking sheet with parchment paper and heating it at 225 degrees for 30 to 40 minutes. The cannabis will turn golden brown and have a slightly nutty scent.
After decarbing the cannabis, you then combine it with butter. Assuming you want to make a dozen brownies, decarb seven grams of weed to make brownies of sufficient potency. You can use as much cannabis as you prefer, but seven grams is a good place to start.
Melt two sticks of butter in a saucepan and place the cannabis into the pan a little bit at a time. (If there is any liquid in the baking sheet, discard it.) Simmer the mix for 45 minutes, frequently stirring to prevent burning. The surface of the butter should develop small bubbles on it.
The best-tasting cannabutter does not have plant material in it, so remove the leftover cannabis by putting the butter through a metal strainer, using a spoon to squeeze all of the plant material out of the butter. The roughly two cups of better with seven grams of weed activated in it are a good place to start to bake your own cannabis-enriched brownies.
An Infusion Machine Can Help You Make Quality Cannabutter Simply and Without a Mess
An alternative to making cannabutter by hand is to use an infusion machine like LĒVO II. This machine is perfect for making consistent high cannabutter. LĒVO II does it all for you: it dries, activates (decarbs), and infuses the cannabis precisely to the settings you prefer.
Just place the broken-up buds into the Power Pod, press the "activate" button, so the THC is released thoroughly with heat, then add butter or oil and press "infuse" to make the cannabutter. LĒVO II parts can even go in the dishwasher. LĒVO II is one of the easiest ways to make cannabutter to your precise needs. The LĒVO II always gets it right.