Author: Olivia Swann, Leafwell Marketing Associate
If you love making cannabis infusions at home, you might want to consider getting a medical marijuana card. In most states, a medical card can save you a lot of money in taxes and allow you to purchase a larger amount of dry flower. In others, getting a medical card is the only way to access legal, high-quality cannabis for all your infusion needs.
Do I Qualify for a Medical Card?
You're eligible for an MMJ card if you have one or more qualifying medical conditions specified by your state's medical cannabis program. Qualifying conditions vary from state to state. Some states, such as New York, allow you to get a card if your primary healthcare provider deems you have a condition that makes you eligible.
Other states have far more stringent standards. Alabama, Idaho, North Carolina (except for the Qualla Boundary), South Carolina, Tennesee, and Wyoming have not legalized marijuana for medical use at all.
Why Get a Medical Card?
For infusion enthusiasts, there are countless reasons why getting a medical card just makes sense. A medical card can make your infusion goals more manageable and affordable, from tax savings to lab-tested quality assurance. Plus, in some states, it's still the only way to purchase cannabis legally.
Greater Allotments and Accessibility
In states where adult-use sales have been legalized, medical patients are often allowed to purchase cannabis products in greater quantities, saving them trips to the dispensary.
In some states, such as Vermont, delivery is even available for medical cannabis patients. Cannabis delivery services can be a game-changer for people with mobility challenges or who otherwise can't easily leave their homes.
On the note of accessibility, in states where recreational cannabis programs are still relatively new, like New York, there are only a handful of legally operating recreational dispensaries where people can purchase cannabis products. A medical card opens the door to more shopping options for high-quality products, and you're much more likely to find a dispensary close to home.
Lower Taxes and Medical-Only Discounts
You likely stand to save a hefty amount of money at the dispensary with a medical cannabis card. In particular, residents in states with incredibly high taxes on recreational cannabis sales, such as Washington, New York, and Illinois, can save hundreds if not thousands of dollars annually with a medical marijuana card.
Additionally, plenty of discounts are exclusively offered to medical cardholders. So, if you're looking for a more budget-friendly way to make your infusions, getting a med card is the obvious answer.
More Product Availability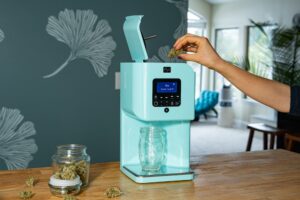 As a medical cardholder, you can access products that may not be available to recreational customers. For example, some states allow patients to purchase cannabis products that have higher THC percentages.
Access to higher-strength cannabis products can be helpful if you've built up a tolerance for THC (or just want to make your infusions more potent).
Grow Your Own Flower
Growing your own cannabis at home is a great way to control what goes into your infusions. When you grow your cannabis flower, you can choose whether or not to use pesticides, know for certain that no mold or diseases have affected your plant, and choose which nutrients you'll use.
It gives you total control over the entire growing process, the end product, and what goes into the infusions you create.
Several states, such as Missouri, Arizona, and Illinois, only allow medical cardholders to cultivate cannabis plants. Therefore, getting your card could save you money while ensuring you're using the highest quality flower in your infusions.
How to Easily Get a Medical Marijuana Card Online
Getting an MMJ card has never been more straightforward, thanks to telemedicine. You can quickly sign up, speak to a licensed healthcare provider in your state, and get approved, all from the comfort of your home.
Services like Leafwell's guide you through the entire process, from booking your appointment to filling out any state applications. Leafwell is available in 34 states across the U.S., and you can start your med card process today by following these four simple steps:
Register Online with Leafwell — Create your account and book an appointment.
Attend Your Online Consultation — Speak with a licensed medical provider in your state of residence about whether medical cannabis is a good option for you.
Get Approved in Minutes — Our healthcare providers can approve you today. You'll receive an approval email immediately after your consultation.
Get Your Medical Card — Complete any state-side requirements to acquire a digital or physical medical cannabis card.
Plus, by applying promo code CANNABUTTER at checkout, Cannabutter Digest readers can save 20% on their certification appointment with Leafwell.
After you receive your card, Leafwell can help with product and dosing recommendations via personalized cannabis guidance sessions. You'll be provided with a customized report of cannabinoids, terpenes, and ratios that will work best for your wellness goals so you can take your infusions to the next level.
The Bottom Line
With the prices of everything steadily climbing ever upward, cannabis doesn't have to be yet another expensive item on your list.
In most states, a medical card can save you money in taxes, give you access to a wider variety of products, allow you to purchase more cannabis at once, and guarantee that you have everything you need to make the best oil infusions and homemade edibles possible.