In preparation for Valentine's Day, we asked Chron Vivant to share recipes that you could indulge in with your special someone. Between the infused chocolate bars paired with the chocolate mandarin Old Fashioned cocktail, we knew his love language meant dessert. Using your LEVO and the recipes below, get sweet this love holiday in the comforts of your home.
Nothing says love + dedication more than a bar of homemade chocolate. Chron Vivant's DIY recipe includes 3 core ingredients listed below. While you can easily control the sugar and sweetness of the recipe with add-ons of your choice, keep in mind you can utilize LEVO's power pod to also control the potency.
Follow these easy steps.
Infused-Chocolate Bars
Ingredients:
¼  cup organic cocoa powder
¼  cup LEVO infused coconut oil 
3 tbsp of agave or your liquid sweetener of choice (maple syrup works great too!)
Optional add-ons:
½ tbsp of roasted cocoa nibs
½ tbsp of dried mandarin flakes
¼ tbsp of dried lavender
Pinch of cinnamon
Pinch of sea salt
Preparation:
1: In a mixing bowl, combine coconut oil with the agave.
2: Add the cacao powder and stir continuously until mixture gets thick. (Feel free to add an extra tbsp oil or water or so, for desired thickness.)
3: Pour into a confection mold or in between layers of wax paper in Ziploc bags. This is where you'll add any desired toppings, too.
4: Freeze until hardened, and enjoy!
Now that you've got your infused-chocolate bars ready, time to prep those cocktails.
Chron Vivant believes the Old Fashioned is an ideal cocktail for experimentation. The chocolate and citrus from the mandarin bitters balance the barrel-aged whiskey so that this concoction is not overly sweet. Plus, the recipe only calls for shaving the chocolate on top of the drink. So no need to worry about any possible synergistic effects that come from mixing alcohol with doses of infused sweets!
Chocolate Mandarin Old Fashioned Cocktail
Ingredients:
2 oz of the whiskey of your choice
1 CBD soaked sugar cube (CBD is optional, of course)
2 dashes angostura bitters
2 dashes of mandarin bitters
Garnishes:
#LEVOmade dark chocolate (above)
Expressed mandarin peel
Preparation:
1: Add CBD sugar cube to your glass and dash Angostura and mandarin or orange bitters.
2: Add a large cube of clear ice (smaller cubes will overly dilute your drink).
3: Pour 2 oz of your choice of whiskey and stir until thoroughly blended.
4: Express a mandarin peel and garnish with shaved flower-infused dark chocolate. Serve and enjoy!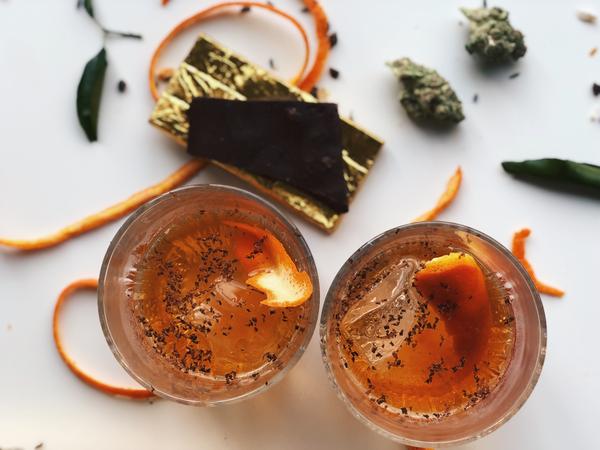 We hope you enjoyed learning how to make infused-chocolate for you and your special someone. Learn more about how you can make this Valentine's Day the most satisfying yet and have a happy day of love!
Recommended Posts: