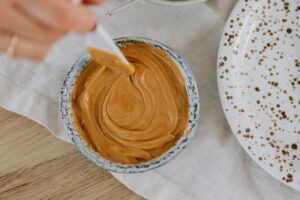 Peanut butter cookies are a classic treat, and when they are made with Rick Simpson Oil, or RSO, they are even more flavorful and divine. The rich, creamy peanut butter masks the bitter taste of RSO, so you can enjoy this delicious treat while reaping all its potent botanical and nutritious benefits.
Peanut butter is a superfood that reduces the risk of cancer, diabetes, and heart disease. It is rich in nutrients, fiber, and protein. They can give you energy and an immune boost on days when you feel like you are dragging.
RSO also possesses many antioxidants, so these cookies are healthier than might be expected!
What is RSO?
Rick Simpson Oil (RSO) is a whole plant extract that is super potent. It was discovered when cancer patient Rick Simpson experimented with producing this potent oil and applied it to cancerous skin lesions. Within days the cancerous spots had decreased and started to heal. It is used for many different reasons, such as dealing with insomnia, pain, and inflammation.
RSO is made by extracting the compounds with a solvent like naphtha. This process results in a broad-spectrum or full-spectrum representation of terpenes and cannabinoids. RSO is more potent than other forms of cannabis, so it is best to use them in very small amounts.
How Do I Use RSO in Recipes?
Most cannabis experts suggest only a dose about the size of a rice grain when first taking RSO, so make sure you only use one or two very small doses for your first time making these RSO peanut butter cookies.
A typical amount of RSO for cookie recipes is around 1 gram. It's better to start slow and small with RSO doses. As you become more familiar with how you metabolize RSO, you can increase the amount.
Note: RSO is also very thick and sticky. One tip for making it easier to prepare the RSO is to squeeze some onto wax paper on a plate. Squeeze out several rice grain-sized servings. Place the plate with the RSO servings in the freezer to firm it up. When you are ready to add the RSO to the mixture, you can pop the solid pieces of chilled RSO into the mixture.
What Are Some Benefits of RSO?
RSO is highly effective at promoting sleep and alleviating pain and nausea associated with cancer. RSO contains a greater amount of chlorophyll which has some anti-cancer properties. It is also used to manage arthritis symptoms, blood pressure, and pain.
Many people use it topically to accelerate the healing of irritated skin, wounds, and fungal infections. Some also use a very small amount on bug bites and acne.
Contact Us for More Information about Home Infusion Machines
Please contact us if you want to know more about cooking with RSO to make infused desserts, entrees, and lotions. A Cannabutter Digest representative would be happy to answer your homemade infused cooking questions.
Isn't It Time To Expand Your Repertoire Of Culinary, Confectionery, And Craft Arts Into The World Of Home Infusions?
LĒVO has a library of recipes, educational content, calculators, photos, and MORE available on our website, or visit us on YouTube to see videos of recipes and our products in action! Not sure where to start? Take the LĒVO Quiz to see which machine is right for you! #LĒVOmade
Recommended Recipes