If you want to make quality edibles at home, you can't simply toss the cannabis into the bread or batter. There are certain steps you must take to ensure quality and potency of your edibles. You have to activate the cannabis by decarboxylating or gently heating it. You can then add the decarbed weed into melted butter or milk and cook it, separate the plant matter from the butter, and add the cannabutter to your edible recipe.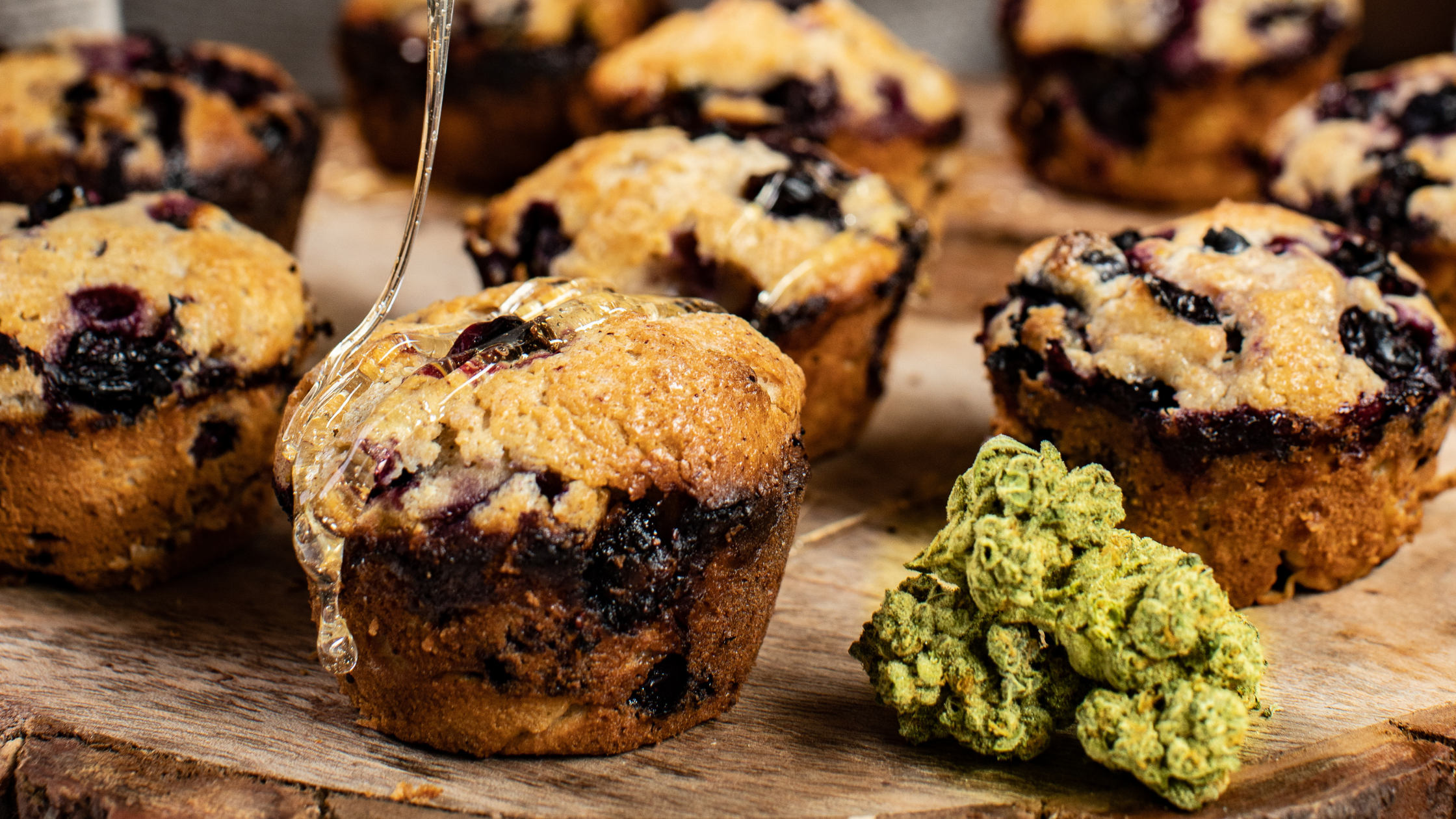 This blueberry muffin recipe calls for two different ingredients infused with cannabis. This recipe requires ½ a cup of cannabutter and a ½ cup cannamilk. First, we will make the cannabutter and then make the rest of the recipe. 
To make the cannabutter, take a few buds and break them into smaller pieces, putting them on a baking sheet with parchment paper. Put it into a 225-degree oven and bake the cannabis for 30 to 40 minutes until it turns golden brown. Infusing the decarbed cannabis requires breaking up the cannabis into smaller pieces and cooking half of it in a saucepan with a stick of butter (that's ½ a cup), stirring regularly for 45 minutes. From here, you'll need to strain the cannabis bits from the butter by pouring the mixture through a metal strainer and pressing the butter through, leaving the cannabis material. 
Now to make the cannamilk, cook the other half of the cannabis into ½ cup of milk, allowing the milk to come to a simmer. When the cannamilk is done, be sure to remove the plant material from the milk as well by pouring it through a metal strainer to remove any cannabis bits. The THC will be infused in the butter and milk. Now, the cannabutter and cannamilk are ready to be added to the recipe.
If you're not interested in making your own cannabutter from by hand, another great way to decarb the cannabis and infuse it with butter is to use an infusion machine like LĒVO ll. LĒVO ll will activate and infuse your cannabutter precisely and without any waste. To use LĒVO ll, place the marijuana into the Power Pod, press the activate button to decarb, and add butter when LĒVO ll tells you the cannabis is activated. LĒVO ll decarbs and infuses the cannabis precisely and without making a mess. The Power Pod and the infuser can even go into the dishwasher.
If making your own edibles at home is something you enjoy doing, investing in LĒVO ll will take your sweet and savory edible treats to the next level.
Interested in furthering your edible-making skills? Learn from the pros in this 1 hour Elevated Edibles Masterclass, where you'll take a deep dive into all aspects of edible making including a lesson on how to make Double-Infused Blueberry Muffins which we know you'll love!!