Oreo Cookies are a timeless, favorite snack. The crunch of the cookie and cream-filled center is delicious whether eaten on their own or dunked in a cold glass of milk. If you love the traditional Oreo Cookies, then an infused version might be your next favorite dessert.
Making your own weed infused ingredients is that much easier with a LĒVO II home infuser. An infusion machine will decarb the cannabis and infuse the oil, butter, honey, and more in a simplified, streamlined process with minimal cleanup.
You can also experiment with different strains of flower or shake, and types of butter or oils, depending on the recipe. For this recipe, you'll need 2 tablespoons of cannabutter. Typically, richer butter with higher fat content is recommended for no-bake recipes like this one.
In addition to these Oreo Cookie Bars being delicious, the cannabinoids and terpenes carry medicinal properties as well. The infused butter can help alleviate inflammation and pain. And depending on the herb used in your cannabutter, some strains help with anxiety, insomnia, and more.
So while this homemade Oreo dessert is a sweet treat, there are some health benefits to enjoy too.
Below are the ingredients and instructions to make Cannabutter Infused Oreo Cookie Bars.
Variations
These bars are easy and simple to make. You can create numerous variations with the ingredients you have on hand or if you just want to try a new twist on this delicious recipe. If you'd like a salty-sweet flavor profile, try putting a few pretzels in the mix for a salty kick. Or, if you want some extra texture and crunch, peanuts go well with this treat too.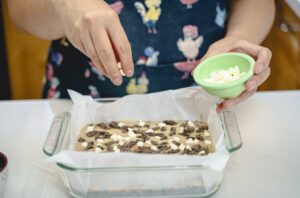 You can also use different types of Oreos, like Birthday Cake Oreos, which have birthday cake flavored filling. These would make a fun and delicious birthday surprise. You could include bright, fun-shaped sprinkles for a colorful addition. Mint Oreos would be a fun variation of these bars too. For that recipe, you could add Andes Mints chocolate pieces too.
One of the fun aspects of this recipe is the possibility of customization. You can swap ingredients and even herb strains to suit your craving for the day.
The Results
The Oreo bars are dense and packed with texture. They soften during the mixing but keep some crunch. The frosting from the Oreos is incredibly sweet and creamy. The cannabutter melts in the density of the cookie bar. The crunchy shells of the M&M's contrast with the Oreos, and the soft, buttery dough is a texture lover's dream.
Note: CannaButter-infused Oreo Cookie bars are made for your eating enjoyment. Make sure to only eat a couple of small bars until your feel the full effects of the cannabis butter kick in. It can take up to an hour to feel the full potency, so take it slow.
Isn't It Time To Expand Your Repertoire Of Culinary Arts Into The World Of Home Infusions?
LĒVO has a library of recipes, educational content, calculators, photos, and MORE available on our website, or visit us on YouTube to see videos of recipes and our products in action! Not sure where to start? Take the LĒVO Quiz to see which machine is right for you! #LĒVOmade
Recommended Recipes