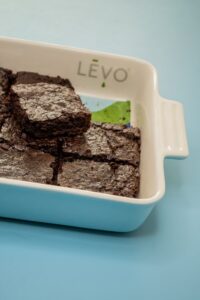 If you are just getting started with making edibles, you may want to know more about how to store your LĒVO infused products and other related pro-tips.
People new to homemade edibles often ask if they should freeze their edibles. Freezing brownies is one of the most efficient storage techniques. Storing edibles saves you time and money, especially if infused meal planning and preparation are a regular part of your lifestyle.
Some infused foods freeze better than others. The good news is most cannabis-infused baked goods seem to hold up well after some time in the freezer. Pot brownies, for example, are easy to make and freeze. Brownies handle the freezing and thawing processes better than other more delicate infused dishes.
How Long Do Frozen Edibles Last?
Frozen edibles can last up to six months if placed in the freezer. Some people swear frozen edibles can last up to a year, but it's really determined by what seems fresh to you.
Most recipes will instruct you to store your edibles in an airtight container in the refrigerator for immediate storage. Depending on the ingredients used, some refrigerated edibles will last several days and others up to ten days or even a couple of weeks.
Storing and Freezing Edibles Properly
It is important to store edibles properly to extend their freshness and prevent the food from spoiling. Always closely follow a recipe's directions for storing food.
Use airtight containers with a strong seal to preserve freshness. Silicone containers seem to be the most effective. Choose one that is slightly bigger than the amount you want to contain. The size of the container in relation to its contents can impact moisture retention. For additional layers of protection, you can wrap the edibles in wax or parchment paper, place them in Ziploc bags, and then seal them in silicone containers. Mason jars with silicone lids are also a favorite and may serve your needs well.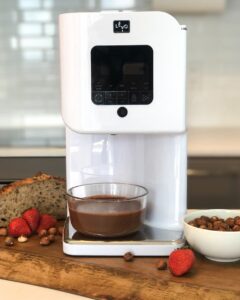 Other helpful supplies for storing infused foods include wax paper and parchment paper. Use either wax or parchment paper to wrap solid foods prior to freezing. For example, wrap your cannabis banana bread in wax paper, similar to how you would wrap a rectangular-shaped gift.
Proper use of your fridge and freezer can impact the quality of your edibles. Check the temperature of your refrigerator and freezer to ensure they are set correctly. Set edibles in a separate area of the fridge or freezer, so they are not in areas that are impacted by temperature fluctuations.
For example, do not store edibles in the door. This area has more changes in temperature than other parts of the fridge or freezer. It is also critical to avoid placing edibles in parts of the refrigerator where children can access them. Clearly label your containers with the date made and included ingredients.
Other edible products like chocolate can last up to a year if wrapped carefully. Oil stays good for up to a year if it is kept in a dark-colored glass bottle. The bottle should be placed in a dark, cool cabinet or the fridge.
How to Store Edibles
The secret to preserving the freshness of your edibles is controlling the temperature and minimizing airflow. Temperatures and humidity levels that are too high for certain substances can degrade the product.
If exposed to air, the moisture levels and texture can be negatively affected. The result is stale, sour, or moldy edibles. For these reasons, airtight containers are essential. They help regulate moisture, limit airflow, and protect from airborne pollutants.
Freezing Helps with Food Portioning
The problem with edibles is that they are delicious, and it is tempting to reach for another chocolate square or gummy as we would for a second or third non-infused treat. Another benefit of freezing edibles is that freezing brownies prevents you from nibbling away on your future servings.
Eating too many brownies can throw off your dosing schedule. You will have to spend more time and money making more edibles to replace the ones you ate. The freeze-and-forget method will help save you from impulse eating.
Defrosting Edibles
When you are ready to eat the brownies, take them out of the freezer and allow them to defrost slowly at room temperature. Rapid temperature changes can impact the flavor, so it is best to allow 3-4 hours to defrost. Serve with ice cream, milk, or a hot coffee, and enjoy!
And when you've been inspired to take a photo of one of your creations, be sure to share what you've made with the world: @LEVO_Oil and be sure to tag it as #LEVOmade.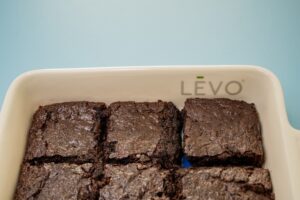 Contact Us for More Information about Home Infusion Machines
Please contact us if you want to know more about making infused desserts, entrees, and lotions. A Cannabutter Digest representative would be happy to answer your questions about making and storing edibles.
Isn't It Time To Expand Your Repertoire Of Culinary, Confectionery, And Craft Arts Into The World Of Home Infusions?
LĒVO has a library of recipes, educational content, calculators, photos, and MORE available on our website, or visit us on YouTube to see videos of recipes and our products in action! Not sure where to start? Take the LĒVO Quiz to see which machine is right for you! #LĒVOmade