Many consider sushi a perfect meal. The varieties and combinations are almost limitless, with a roll for every craving and preference.
Now, imagine this already delicious meal taken to the next level by using infused oil in the recipe. In fact, nori is a flavor that pairs really well with infused oil. With each bite, your sushi will keep getting better and better.
I am definitely an infused sushi addict, but is there a better thing to be addicted to? Sushi provides great general nutrition, and when I make a cannabis-infused version, I get the anti-inflammatory and anti-pain influences of the cannabinoids. I am 60 years old, and I have never felt better in my life.
Now that you're inspired by the idea of creating an infused sushi, I bet you'd like to know how to make your own at home. This recipe does call for a cannabis-infused carrier oil- just like any you could make with a LĒVO machine like LĒVO II or LĒVO C.the LĒVO II.
For this recipe, we'd suggest a lovely infused coconut olive oil. Maybe you'd like to try something different? Maybe you'd like to try this with a sesame oil-based dip? Why not? That's one of the best advantages of using LĒVO machines- the limits are only those of your imagination and palate.
First, gather all the ingredients mentioned below, and let's get ready to roll!
How to Enjoy your Cannabis-Infused Sushi Roll
I like to get a little more infused oil and mix it with my wasabi. The infused oil also goes well with soy sauce or spicy mayo. I can eat about three pieces of sushi before I stop to let the effects kick in.
However, three pieces of sushi are just enough to make the perfect serving portion. I've learned not to overstuff myself with this type of sushi as I used to in the past.
Hands down, the best beverage to enjoy your infused sushi is sake. Get a bottle from the liquor store and remember to serve it warm if it's filtered, and cold if it's unfiltered. Once you have your sushi ready, dipping sauces made, and sake warmed, you're ready for a great, relaxing night.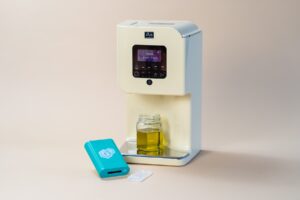 Once you master your LĒVO II or LĒVO C oil infusions and make one type of sushi roll, you can venture out into a whole world of different recipes with new ingredients. Not only will these infused sushi rolls relax you, but you'll get a variety of health benefits as well as pain relief and anti-inflammatory properties too. Let's get to (sushi) rolling!
Isn't it time to expand your repertoire of culinary arts into the world of home infusions?
LĒVO has a library of recipes, educational content, calculators, photos, and MORE available on our website, or visit us on YouTube to see videos of recipes and our products in action! Not sure where to start? Take the LĒVO Quiz to see which machine is right for you! #LĒVOmade