Nothing pairs better with cooler weather than a rich, warm soup. Even spring days can be cold, and this LĒVO infused Broccoli Cheddar Soup is the perfect complement to those cooler seasonal nights. The creamy cheese flavor goes just right with the chopped broccoli florets.
When you infuse your soup's ingredients, you can enjoy the medicinal health benefits paired with the comfort of the traditional flavors and ingredients in the soup.
Prepping Your Ingredients
This recipe has a lot of ingredients, but it is easy to make. Most of the effort goes into chopping the onion, carrots, and celery and grating up the sharp cheddar cheese.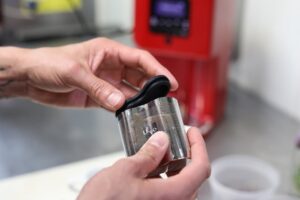 Measuring out the ingredients takes the most time. However, while you're prepping your ingredients, you can take the time to make your infused butter. That is especially easy if you have a LĒVO infusion machine on your kitchen countertop.
Consider making this recipe in a crockpot. The slow cooker will mix the flavors so well that you'll think that you're eating this soup in a fine restaurant. The soup will take longer to cook, but you can prepare it ahead of time and let it simmer all day, ensuring the flavors are perfectly combined.
Infused butter that you made in your LĒVO II or LĒVO C infusion machine goes extremely well with this recipe. The creamy sharp cheddar cheese holds the potency of the cannabinoids just right due to the higher fat content of the butter. The tender pieces of broccoli give the right amount of green to mix in with the herb flavor of the cannabinoids. You can enjoy this soup when you are feeling some aches and pains. The cannabinoids will help with inflammation and help alleviate sore muscles or various other aches.
Additional Toppings
To spice up your soup a bit, try a few optional ingredients or toppings. This recipe is heavy on the cheese, so anything that normally pairs well with cheese game. Try mixing in a ¼ cup of Pico de Gallo for a Mexican version of this soup. You can also add a little cumin and chili powder to create a slightly different flavor profile.
Consider adding chopped green onions and bacon bits on top of your finished soup- those go great as a garnish.
This cheddar cheese soup forms a great base for other cheese-based soups. You could change this recipe to make a cheddar cheese dip for a party. Or just make it as-is, and your guests will surely be pleased.
Final Product
You can see how easy this recipe is to make. This is a perfect recipe if you want something warm and comforting in less than 45 minutes.
If you want to make it in the crockpot, then just take the ingredients after step 3 and put them in the crockpot on low. Add the cheddar cheese and vegetables, and you can cook it on low for another 2 hours. The recipe will be a little creamier, and the vegetables will mostly dissolve in the soup.
How to Serve your Cannabis-Infused Broccoli Cheddar Soup
Get out some deep serving bowls. The thicker the glass or ceramic, the longer the soup will stay warm. Serve the soup in the soup bowls along with a sprig of parsley. You can put the soup bowl on a plate and put small pieces of toast on it for dipping.
Try dipping other items such as tortilla chips or even French fries. This soup is so creamy and thick that you can even use it as a dipping sauce- just cook it a bit longer until you reach the consistency you're after.
*And when you're satisfied with your creation, dress it up and share it with the world: @LEVO_Oil and be sure to tag it as #LEVOmade.
Contact Us for More Information on Home Infusing Machines
If you would like more information on how to use home infusion machines to create a range of appetizers and dishes, please contact a LĒVO representative. We are happy to discuss how a home infusing machine can help you create infused and healthy meals.
Isn't It Time To Expand Your Repertoire Of Culinary, Confectionery, And Craft Arts Into The World Of Home Infusions?
LĒVO has a library of recipes, educational content, calculators, photos, and MORE available on our website, or visit us on YouTube to see videos of recipes and our products in action! Not sure where to start? Take the LĒVO Quiz to see which machine is right for you! #LĒVOmade